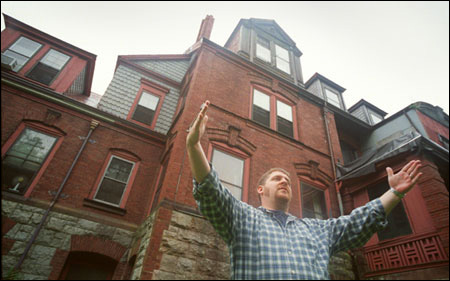 When Joel Richard finishes his day as a staff assistant in Harvard's Freshman Dean's Office, he hops on his bike, pedals through the crowded streets of Cambridge, Somerville, and Medford, then turns into his driveway. There, smooth pavement gives way to weeds and potholes, and the landscape turns from three-deckers and storefronts to deep woods, marshes, and a pond brimming with wildlife. A quarter-mile later, Richard pulls up to Acorn Hill, the 21-room, 8,000-square-foot Victorian mansion he calls home.
In Greater Boston's overheated housing market, Richard and his wife, Susan, have hit the jackpot: as caretakers for the Brooks Estate, they live rent-free in the former summer home of Shepherd Brooks, scion to one of New England's wealthiest families. They occupy spacious rooms in the mansion's former servant's quarters in exchange for duties that ensure the basic upkeep of the house's systems. As a bonus, they are surrounded by 50 acres of rolling fields and forests that buffer them from the city's hubbub.
"It's the strangest thing to have this big old house and all this open land so close to Boston," says Richard, adding that it's a welcome calm from their former apartment in Dorchester. "We're from New Hampshire and Maine. We're used to quiet and trees."
The Brooks Estate provides plenty of both. Tucked between the Oak Grove Cemetery and the Mystic Lakes in West Medford, the estate was owned by the prominent Brooks family from the 17th century until 1942. Shepherd Brooks ("I've heard he was sort of a grump," says Richard) built Acorn Hill in 1880 for the then-exorbitant cost of $44,000. Its exterior is brick and granite with a veranda, two-story porch, and red slate roof; inside, ornately carved cherry, oak, and butternut lend grandeur to its rooms and staircases.
Since the 1940s, the city of Medford has owned the estate, pressing it into utilitarian service as veterans' housing and a group home for developmentally disabled adults.
"It really shocks me that so many people have lived in this house and there's still so much intact," says Richard.
Yet although the building was occupied, its historical integrity was overlooked and years of neglect took their toll in peeling paint, broken windows, and a crumbling porch. Under the stewardship of the Medford-Brooks Estate Land Trust since the 1990s, the manor, its carriage house, and the grounds are slowly being restored to their former glory.
Selected from among 60 couples, the Richards became the property's third caretakers in March. With most of the house cordoned off in serious disrepair, Richard admits that his first few months in his remote new home were "freaky." Spring brought nearby residents to hike, bird, and fish on the grounds, and the Brooks Estate has become less lonely.
"It never feels totally isolated," says Richard. Recently, a man who had been running on the estate's trails for 10 years rang their doorbell, surprised to find the house occupied. Nature keeps the caretakers company, as well. "We saw a fox the first morning we stayed here," he says.
Still, with the only car access winding through the labyrinthine cemetery before ascending the long, rugged driveway, Richard's home remains a peaceful retreat from the clatter of urban life.
"Forget about ordering a pizza," he laughs.