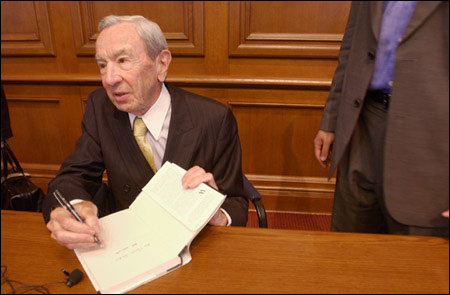 It's possible – although not necessarily easy – to combine a legal career with one in public service, former Secretary of State Warren Christopher told Harvard Law School (HLS) students Sept. 5. Touching upon some of the defining moments of his long career in community, state, and national service, Christopher demonstrated that blending the two career paths is a challenge worth rising to.
"It's a tremendous pleasure and an opportunity," said Christopher, adviser to three U.S. presidents. "I never entered [the White House] without a sense of awe and appreciation for what our country is and the opportunity to serve it."
Secretary of state from 1993 to 1997 under President Clinton, Christopher also served as deputy secretary of state from 1977 to 1981. In that position, he was credited with negotiating the release of the American hostages in Iran; President Carter awarded him the Medal of Freedom, the nation's highest civilian award, in 1981. He was deputy attorney general of the United States under President Johnson, and in 1991, he chaired the Independent Commission on the Los Angeles Police Department, which proposed significant reforms to the department in the wake of the Rodney King incident. Between these and other turns of public service, Christopher has returned to the law firm of O'Melveny & Myers LLP, which he first joined in 1950 and where he is currently senior partner.
"Warren Christopher is an extraordinary lawyer and an extraordinarily distinguished public servant," HLS Dean Elena Kagan J.D. '86 told the crowd that packed Ames Courtroom. "What Warren Christopher shows us is the way in which the private practice of law can be combined with distinguished and truly invaluable public service."
Christopher's talk was formatted as an interview rather than a lecture; HLS professor Carol Steiker, described by one of her classes as "Oprah-esque," delivered the questions. At one point, she lived up to her talk-show-host reputation by brandishing Christopher's most recent book, "Chances of a Lifetime" (Scribner, 2001), a memoir.
Reviewing his five-decade career, Christopher was hesitant to claim exclusive credit for any accomplishments.
"Whatever achievements I've made have almost always been the result of teamwork," he said, adding that he considers his negotiation of the successful release of the Iran hostages his crowning glory.
"The moment I most appreciated was that moment in Algiers in 1981 when all 52 hostages walked down the ramp of the airplane … after 14 months of captivity," he said.
Steiker asked Christopher for his personal impression of the three presidents under whom he worked. Paraphrasing F. Scott Fitzgerald on the wealthy, Christopher said, "presidents are just different … they live in a very rarefied world."
Johnson made landmark strides for civil rights, he said, which were overshadowed by U.S. involvement in the Vietnam War. He described Carter as a man of strong religious and moral convictions who "has had probably the best postpresidency of anyone in history." He lauded Clinton as a gifted, instinctive politician.
Career counseling
Christopher's talk was appropriately pitched to the audience of mostly law students on the brink of making career decisions. A native of a small farm town in North Dakota, he assured students that public service careers were not the exclusive province of the privileged and well-connected. With time and attention, he advised, anyone could cultivate a network that would produce opportunities for public service.
"Start early," he counseled, "and try to get yourself involved with people of principle, people you admire." Local and state governments can be excellent launching pads for loftier positions, he said, noting that former Governor of California Edmund "Pat" Brown gave him enduring support and opportunities as he rose through state and national politics.
Perhaps more daunting to young lawyers, he acknowledged, is making time for public service while working in corporate law firms, with their constant pressure to bill hours. Big law firms, Christopher said, are "bigger and firmer" than they were when he started his own mosaic career of corporate legal work and public service.
Still, Christopher was optimistic that today's young lawyers could chart a career course similar to the one he began half a decade ago. Some firms – including his own – are more committed to public service than others. Not coincidentally, O'Melveny & Myers hosted a recruiting reception following Christopher's talk at which some of that firm's younger lawyers could give would-be public servants the straight scoop.
"I had the good luck to choose a firm that was very supportive of me from the beginning," he said, adding that he had to establish his reputation with the firm first. "I don't want to say that it's easy, but it's all very do-able."
Honorable lawyer, honorable public servant
Audience questions ranged from probing Christopher's opinion on current U.S. policies in China, North Korea, and the United Nations to drilling deeper on the difficulties of blending public service and corporate law careers.
"I'm still a little skeptical about how practical that is today," said second-year HLS student Joe Miller. "Maybe he is just a far more energetic and driven man."
Miller, who admired Christopher's work under President Clinton, came to the talk seeking insight into how he might work public service into his own career. At Harvard, he said, the specter of paying back student loans leads many would-be public servants into corporate law, as does peer pressure from classmates, many of whom go to work at law firms "even though everyone says they don't want to," said Miller.
Christopher, however, was upbeat and encouraging to the end. "There's no doubt that law is one of the great careers," he told the future lawyers. "I think just being an honorable lawyer is an important contribution to public service."