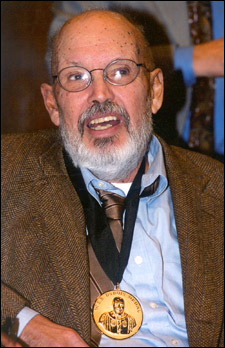 Richard Newman, a scholar of black studies and a civil rights activist who was senior research officer at the W.E.B. Du Bois Institute, died July 7 of a brain tumor. He was 73.
Newman's knowledge of four centuries of African-American history was exhaustive. "He knew everybody and he knew everything about everybody, including the bits that haven't been published," said John Bollard, managing editor of the "African American National Biography" at the W.E.B. Du Bois Institute. "He taught African Americans how to understand and think about African-American lives through his scholarship and through his teaching."
After brief teaching appointments at Vassar College and Syracuse University, Newman spent 10 years teaching at Boston University. He worked as an editor at G.K. Hall & Co. and Garland Publishing Inc., where he published books on black history. In 1993, he joined Harvard's Afro-American Studies Department, working in communications, serving as managing editor of the "Harvard Guide to African-American History," and working as a researcher.
Raised on a farm in upstate New York, Newman was the son of conservative Republicans. He was a 25-year-old Presbyterian minister when he met Martin Luther King Jr. and began his lifelong commitment to civil rights.
"I knew two things for certain," Newman wrote in "Freedom on My Mind: Richard Newman's Life and Work," a retrospective of Newman's life recently compiled by his colleagues. "Prejudicial distinctions based on race are wrong. And that America's great unsolved problem of justice was race."
As a scholar, Newman wrote essays and books, edited the work of renowned scholars, and compiled vast bibliographies of African-American literature for publishing companies in Boston and New York, amassing an encyclopedic knowledge of black history.
Bollard and other colleagues remember Newman's open generosity and friendliness.
"He was like everybody's favorite uncle. He was probably one of the warmest, kindest people I've ever met. And funniest. He was outrageously funny," said Kate Tuttle, senior editor at Africana.com, who worked with Newman on the "Encarta Africana" project, an encyclopedia of African and African-American history, culture, and arts.
Newman earned a B.A. from Maryville College in Tennessee and an M.Div. from Union Theological Seminary; he also studied at Syracuse University and Harvard University.
Newman leaves his wife, Belynda Bady; as well as his brother, Jan; his sister, Diana; and his stepchildren, Paul Bauer, Nancy Bauer, and David Bauer.
A funeral service was held on July 11 at the Memorial Church in Harvard Yard.