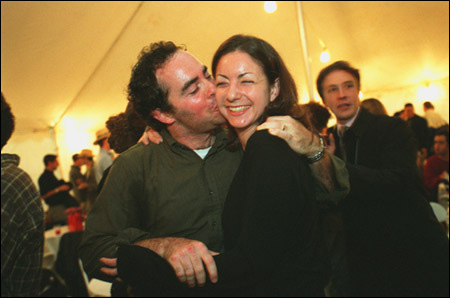 Celebrating the excellence and diversity of research by Harvard College seniors, the Radcliffe Institute for Advanced Study awarded its 2003 Fay Prize to three students whose theses explored mangroves, motors, and the mind.
Andrew Evert Carlson, Gabriella S. Rosen, and Stephanie Alexandra Stuart (who was unable to attend the event) received the prize from Radcliffe Dean Drew Gilpin Faust at Radcliffe's annual Strawberry Tea Wednesday evening (May 28).
Selecting winners from senior theses nominated for the Thomas T. Hoopes Prize, "the committee found it impossible to recognize a single winner," said Faust, lauding the intellectual rigor and groundbreaking creativity of the winning projects. Founded in 1907, for its first 90 years the Captain Jonathan Fay Prize was awarded only to Radcliffe College seniors; it was broadened to honor theses by women and men with the merger of Radcliffe and Harvard and the creation of the Radcliffe Institute in 1999.
"It is fitting that these projects be honored by the Radcliffe Institute, which pursues work in a similarly wide range of academic endeavors and fields of study," Faust added.
In his brief remarks, President Lawrence H. Summers expressed his admiration for the winners and the breadth of their scholarship.
"If there is anyone in this room who can understand in depth and detail all three of these theses, I'm prepared to move over," he said.
Carlson, an engineering science concentrator from Lowell House, designed, built, and tested "A Comprehensively Integrated Smart Motor Control Chip," the title of his thesis. Carlson described his work as enhancing the sort of simple microchip that's commonly found in remote-control cars or toys like Tickle Me Elmo with the ability to control four functions: power control, signal processing, position sensing, and motion recording and playback.
"It's taking an entire motion control system, which might cost $1,500, and getting it down to something very small and, most importantly, it's very cheap to make," he said. Advanced medical devices are one potential application of the technology, said Carlson, who plans to apply for a patent for his motor and will begin doctoral studies in electrical engineering at the University of California, Berkeley, in September.
"I really wanted to do something that I could look back on in 10 or 20 years and say, 'this is what I got out of Harvard engineering,'" Carlson said.
For her thesis, "'How Many Selves Have We?' The Theory, Therapy, and Legacy of Morton Prince's Breadth Psychology," Rosen explored the work of pre-Freudian psychotherapist and Harvard professor Morton Prince. A history and science concentrator who lives in Pforzheimer House, Rosen was drawn to Prince, who conducted a once-famous study of multiple personality, as she explored the field of psychology in the years before Freud dominated the field.
"[Prince] was a really respected figure and he got forgotten, swept under the rug," said Rosen. More recently, she added, "ideas that are very similar to his have been brought back but not in his name."
Rosen's work presents a detailed history of the debate on the nature of consciousness in Prince's work, as well as a study of the interactions between theory building and clinical engagement. The Berkeley, Calif., native will continue to study psychiatry at Mount Sinai School of Medicine in the Humanities in Medicine program.
Stuart, a biology concentrator, traveled to Florida and Australia to research the tropical mangrove tree for her thesis titled "What Sets the Latitudinal Limit of the Mangrove Habit?" Her data, collected from field and lab experiments conducted in two hemispheres, conclusively answered her question. A former resident and current affiliate of Dunster House, Stuart plans to continue her research on mangroves in Australia next year before pursuing graduate studies in plant physiology.