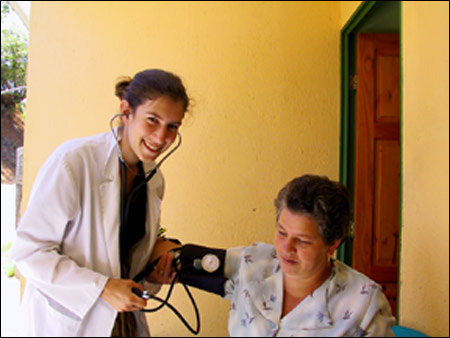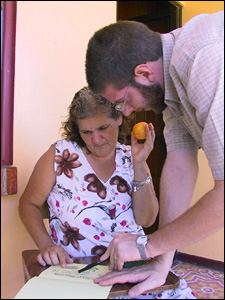 When Sara Goldhaber met Jeremy Fiebert during their first year at Harvard, they had no idea that, eight years later, they would be trying to get rural people in Costa Rica to exercise more and eat less sausage and cake.
Goldhaber chose biology as her gateway to a career in medicine; Fiebert concentrated in history and literature. They started dating during their junior year. After graduation in 1997, Goldhaber went on to Harvard Medical School and Fiebert to a job as a software engineer. They married in 1998.
Fiebert is a man of wide interests. Goldhaber has a long-standing passion for origami. She invented an original folded-paper form when she was only 10, and taught the skill at various international conventions. She even taught Fiebert how to make a 12-pointed, three-dimensional star during their first date while they sat on a park bench during a cold December day.
Goldhaber wanted to do a research project while in medical school. She decided to establish a community-based system in rural Costa Rica aimed at reducing the disabling consequences of type 2 diabetes. "It would be a good way to help people while getting experience in research," she says.
There were a couple of problems with that idea. Goldhaber had never run an international public-health project, and she couldn't speak Spanish. These, she told herself, should be viewed not as daunting difficulties but as challenges.
In the summer of 1999, Goldhaber enrolled in a medical Spanish course. It required eight hours each weekday for a month, plus homework. Meanwhile, she and Fiebert decided to go to Costa Rica together. He attended the Spanish course during the day and worked as a software engineer at night.
"When he's interested in something, he goes all the way," Goldhaber comments. "But I was concerned about him losing his job. Also, we'd been happily married for three years, and I worried that working together 24 hours a day might ruin it all," she jokes.
Calling all diabetics
They left for Costa Rica in August 2001. Diabetes and the heart and blood vessel problems associated with it are a growing problem there as they are in the United States. Individualized care by doctors and nutritionists is too expensive for Costa Rica's health-care system to bear. Goldhaber and Fiebert would try to put together a community-based diet and exercise system that involves patient participation through nutrition classes and walking groups.
It was a good plan on paper, but could it be done in a scattering of small villages near the town of Grecia, about 30 miles from San José?
First Goldhaber and Fiebert had to recruit people with diabetes. They used telephones when they could, put up posters on buses, and went house to house. But the best way turned out to be riding around in a car with a megaphone mounted on it, playing a musical announcement inviting everyone to the first meeting.
The meeting was set for December 2001. Goldhaber wondered if anyone would come. Would there be two people, or 50, or none?
The tension eased when 100 people showed up. The next task was to get them to change their eating habits. Foods like sausages and cake would have to be replaced by vegetables, fruits, and whole-wheat bread. The goal was to increase fiber consumption, control portions, and substitute unsaturated for saturated fat.
To explain differences in fat, nutrition students from the University of San José used lumps of lard. They patted together large lumps to represent sausage, smaller ones for chicken. They showed how difficult it is for red liquids (blood) to flow through plastic tubes partly blocked by lard (diseased arteries and veins).
And everyone would have to get more exercise. Walking groups were organized and led by local community leaders. They trod the roads lined with sugarcane three times a week for an hour. "We knew we had to practice what we preached, so we joined each of the four walking groups once a week and ate a healthy diet," Fiebert notes. "I lost 35 pounds."
One couple was surprised that Goldhaber didn't know how to milk a cow. So they taught her. "It's a lot harder than it looks," she says.
Measuring up
Most of the people in the study were older women. The men either had to work or just didn't want to participate. Even so, those grandmas exerted a lot of influence on changing the lifestyles of their families. They did much of the cooking and warned overweight children and grandchildren about the potential heart disease, foot ulcers, kidney failure, blindness, and other complications of diabetes.
After 12 weeks, Goldhaber and Fiebert measured the weight and blood sugar levels of those in the program and compared them with those who were not. The former lost weight, the latter gained it. Significant decreases in blood-sugar levels distinguished the first group from the second. Those who sustain such weight and blood sugar reductions are less likely to experience the severe complications of diabetes.
After coming back to Boston in June 2002, Goldhaber returned to medical school and Fiebert began to do research at the Harvard School of Public Health. This spring they went back to Costa Rica to check on people in the study. "We felt heartened by the individuals we saw who maintained healthful lifestyle changes," Goldhaber notes. "We hope that what we were able to do will serve as a model for similar projects both in Costa Rica and other parts of the world."
Both admit they could not have done what they did without the help of many other people, especially David M. Nathan, a diabetes specialist at Massachusetts General Hospital, and Mario Tristán, director of the International Health Central American Institute in Costa Rica. Nathan served as their adviser; Goldhaber and Fiebert refer to him as a "true mentor." Tristán attracted Goldhaber to Costa Rica in the first place when she met him during her training in medical Spanish, and he provided a guiding hand when she and Fiebert worked in his country. A number of fellowships, including a Fulbright Fellowship, covered their expenses.
Goldhaber will go on to do an internship in internal medicine at Brigham and Women's Hospital, then a residency in anesthesiology at Massachusetts General Hospital. Why anesthesiology? "I look toward being able to help patients at the difficult and sometimes terrifying time before surgery," Goldhaber answers. "It's a time when they need gentle human contact. And I love the combination of thinking and working with my hands, a throwback to origami. I also intend to continue doing do research."
Inspired by their work in Costa Rica, Fiebert will begin a Ph.D. program in health policy this fall. It shouldn't be too difficult for a guy who learned to make a 12-pointed, three-dimensional star out of paper in one sitting.
And what of togetherness? "We discovered we love working together," Goldhaber says, "so I think we will continue."