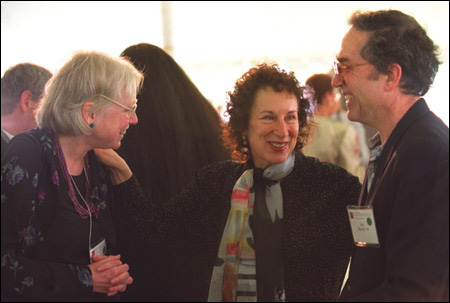 When Radcliffe Medalist Margaret Atwood A.M. '62 studied at Radcliffe, pantyhose and birth control pills were future innovations and women were famously barred from Lamont Library.
This week, Radcliffe Fellow Maria Zuber's research will go to Mars.
Atwood, who spoke at the Radcliffe Day Annual Luncheon Friday (June 6), charted her own progress as a poet and novelist as she championed women's parallel progress toward equal rights at Harvard and beyond.
"I was pretty startled to see a woman dean in trousers today," said the award-winning author and poet of Drew Gilpin Faust, dean of the Radcliffe Institute for Advanced Study.
Faust, for her part, pointed to Zuber's Mars mission as exemplifying the way that the Radcliffe Institute is carrying forward Radcliffe College founder Elizabeth Cary Agassiz's mandate to challenge accepted wisdom. By breaking down intellectual borders, said Faust, "the Radcliffe Institute is dedicated to changing the world."
Cambridge, Harvard echoed in novels
Speaking in a droll deadpan, Atwood kept the audience of Radcliffe alumnae and friends laughing at her wry reminiscing and self-reflection.
She recalled coming to Radcliffe as a graduate student in 1961 and learning that "Cliffies" were to become role models.
"I was convinced that I myself could never be such a thing, as I had the wrong kind of hair. How I longed for a blonde pageboy, but it was not to be," said the curly-topped Canadian.
She shared an apartment with two other women who, when she traveled to Ottawa to receive a major literary prize, took advantage of her absence to throw out Atwood's beloved Hush Puppies.
"Now that I was that admirable item, an award-winning author, they considered this type of footgear no longer suitable for me," she said.
Atwood said her Cambridge days provided fodder for her prize-winning novels. Her 1985 novel "The Handmaid's Tale" altered the architecture of her Harvard Square haunts, including the Brattle Theatre and Widener Library.
She called out two Harvard professors – the late Victorianist Jerome Hamilton Buckley and Perry Miller, who taught American literature – as exceptional. Buckley's spirit and enthusiasm, she said, lives on in her 1996 novel "Alias Grace."
She dedicated "The Handmaid's Tale," a chilling feminist nightmare set in the near future, to Miller and to Mary Webster, a distant relative of hers who was hanged – unsuccessfully – as a witch.
Hailing Webster as "an ancestral connection with a tough neck," Atwood illustrated how witchcraft underscored the importance of giving women political power.
"If you don't let them do it, they'll get their oar in anyway. They'll accuse you of Satanism, and fall down in fits to prove it, and scare the daylights out of everyone," she said. "Much better to have them sitting on committees."
Hope and caution
Atwood tried to offer optimism to the audience, but tempered it with a heavy dose of caution.
"Writing is an act of hope," she said. "However gloomy the content of the writing may be, there mere act of putting pen to paper is an act of communication; it presupposes a future reader, and thus a future."
She also held out women's progress since 1961, when she arrived at Radcliffe, as reason for optimism. Yet democracy, crucial for the rights of women, is difficult to maintain and must be fought for with vigilance.
"Democracy as a form is like the brain, or a muscle: use it or lose it," she said. While she avoided specific political examples, Atwood issued stern warnings against the erosion of democracy.
"When a democratic system feels itself to be under threat, individual freedoms are among the first things to be sacrificed, to be replaced by the secret exercise of increasingly arbitrary power," she said. If American democracy were to fail, she added, there would be no other country that could come to its rescue.
Americans would be wise to look to the biblical meaning of the oft-repeated vision of its Puritan founders: "A city upon a hill, a light to all nations."
In the biblical prophecy of Isaiah, said Atwood, this phrase expresses a hope rather than the reality it is sometimes confused with today.
"But if you aspire to be a city upon a hill, you have to be worth looking up to," she said. "If you are a light to all nations, other people will be peering in the windows. Transparency and democracy go together. Do not allow your own government to operate behind closed doors."
The Radcliffe Day luncheon followed a symposium, "Women in a Violent World: Searching for Solutions," that featured comments by Radcliffe alumnae recognized for several awards. Alumnae Recognition Award winners were Linda Greenhouse '68, U.S. Supreme Court correspondent and The New York Times senior writer; Perri Klass '78, M.D. '86, author of "Love And Modern Medicine"; and Brenda Maddox '53, biographer and journalist.
Graduate Society Medals went to Martha Minow Ed.M. '76, Harvard Law School Professor; and Harvard School of Public Health associate dean for faculty development Deborah Prothrow-Stith M.D. '79. Katya Fels '93, founder and executive director of On the Rise, an organization for homeless women, received the Jane Rainie Opel '50 Young Alumna Award.