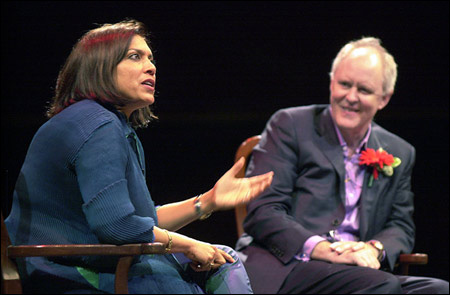 Indian film director Mira Nair '79 spoke Saturday (May 3) in Sanders Theatre, discussing her early struggles as a documentary filmmaker, the making of her acclaimed fiction films, her efforts to help Indian street children, and her artistic philosophy.
The recipient of the 2003 Harvard Arts Medal, Nair was the guest of honor at the annual Arts First festival. On Saturday evening she spoke as part of the Office for the Arts' Learning From Performers Series.
Voluble and vivacious, her dark eyes flashing with warmth and intelligence, Nair drew an enthusiastic response from the capacity audience. Actor John Lithgow '67 questioned the director about her life and work.
"One of my mantras is that if we don't tell our own stories, nobody else will tell them," Nair said.
Nair has clearly followed this advice in her own career. After graduating from Harvard with a degree in Visual and Environmental Studies (VES), she went to New York where she worked as a waitress to earn money to buy film stock. Using a borrowed camera, she filmed her first documentary, "So Far From India," a study of an Indian immigrant living in the United States.
Her next film was "Indian Cabaret," a nonjudgmental look at exotic dancers at a nightclub in Bombay.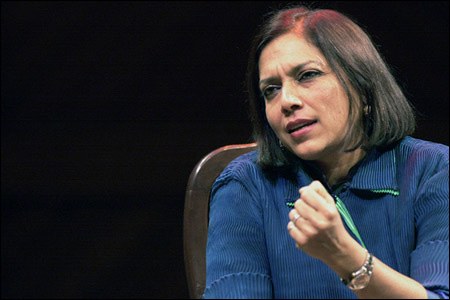 Having overcome the obstacles in making these films, Nair faced another hurdle – distribution. She spoke of how she traveled around America by Greyhound bus, showing her films at colleges and community centers, wherever she could find an audience. Asked whether she ever got discouraged or thought about quitting, she answered in the negative.
"No, I never wanted to give up. I'm diseased. I'm afflicted by cinema."
But while discouragement was foreign to her, she did begin losing patience with the documentary form.
"I was tired of waiting for things to happen. I wanted to make them happen."
The film she made happen was the award-winning "Salaam Bombay!" (1988), a study of homeless children trying to eke out a living on the teeming streets of the Indian metropolis. Nair used real street kids as the principal actors, creating an education workshop to prepare them for their performances. Funded by profits from her films, the original workshop has proliferated to 17, providing nearly 5,000 children with education and skills, and in many cases, reuniting them with their families.
Nair's subsequent films include "Mississippi Masala," a tale about the love between an African-American man and a young woman of the Indian diaspora whose family has been exiled from their home in Uganda; "The Perez Family," a story of Cuban immigrants in America; "Kama Sutra: A Tale of Love," an exploration of erotic passion and the rivalry between two women in 16th century India; and "Monsoon Wedding," a rich ensemble film about the blending of old and new in a middle-class Indian family. She is currently filming a movie adaptation of William Makepeace Thackeray's novel "Vanity Fair."
Nair said that she never intended to use documentary films as a stepping stone to fiction films, and in fact she has continued to work in the documentary mode. But she did adapt ideas and working methods from documentary filmmaking when she began her fiction film career.
For example, Nair developed the script for "Salaam Bombay!" out of her interviews and interactions with Indian street urchins and filmed the movie entirely in real-life locations. She said that her use of speech as it is actually spoken on the streets of Indian cities surprised moviegoers accustomed to the elevated language of most Indian films.
"It was revolutionary for people to hear this fantastic, bawdy, mishmash language that we actually use in India."
In "Monsoon Wedding," she used professional actors in only a few key roles. The rest were friends and members of her extended family. She spoke about how a well-known actor's unexpected weight gain caused her to make a last-minute choice of a virtual unknown, Vijay Raaz, for the role of P.K. Dubey, the marigold-munching tent contractor. Inspired by Raaz's performance, she expanded his role, and his character emerged as one of the most memorable in the movie.
The inspiration for "Monsoon Wedding" came out of a very different sort of life transition, the death of two close friends. Nair's reaction was to make a movie that celebrated life.
"Making a movie has to give something back," she said. "It should make a difference to the world, not to change it, but to make people reflect."
Nair said that the offer to direct "Vanity Fair" came as a result of the success of "Monsoon Wedding." She agreed to take on the project because the novel has been a favorite of hers since she first read it at the age of 16. Although the story of Becky Sharp's rise through the ranks of British society has been adapted for the screen before, Nair said that her version would offer a different interpretation of the novel.
"I believe it's about a spiritual question – what do we want in life, and once we achieve it, are we content?"
She said that the style of the film will be different as well.
"It will be a very unstately film about a stately society."
She said that while the budget for this film is many times greater than anything she has done so far, the same difficulties remain. Filming an elaborate ball scene or the Battle of Waterloo quickly exhausts what seem to be huge sums of money.
Another current project is the creation of an organization, modeled on the Sundance Institute, to encourage and support young independent Indian filmmakers.
"In India, there is no place for young people with something important to say to dream in images," she said.
While her plate may seem extraordinarily full these days, Nair assured the audience that she only undertakes projects that she really wants to do.
"I believe in pure enjoyment," she said. "I don't do anything I don't enjoy. And I won't work with people I don't enjoy working with. Life is too short!"