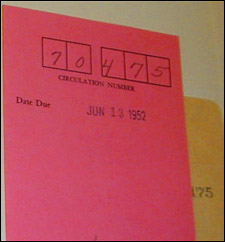 "This beats the record," said Jon Lanham, associate librarian of Lamont Library, who collects late return due date cards. One from a book due in 1967 held the record until "The American Revolution, Part I, 1766-1776" by Sir George Otto Trevelyan (Longman, Green, and Co., 1899) was returned this month after turning up in the collection of the Blue Hill Public Library in Maine. Due more than 50 years ago, it is Lamont's longest outstanding overdue book. Despite its late return, no fines will be enforced.
The volume came to the attention of Fern McTighe, reference and interlibrary loan librarian of Blue Hill Public Library. She notified Lamont's Head of Reference Services, Jeff Kosokoff, via e-mail with the subject header "Some books are more overdue than others." McTighe's message continued, "We have a book that appeared in our collection rather mysteriously some time ago. It has a Harvard College, Lamont Library bookplate in it, and we wonder if it is something that should be returned to you?" Kosokoff responded that it was better late than never, and soon a small cardboard box arrived from Blue Hill containing nothing but the lost book, complete with a pink date due card reading June 13, 1952.
Clues indicating who checked out the book and where it went from there are difficult to discern. Scribbles in the front and back cover note possible owners' names as well as titles of other books involved in a scholar's studies. A unique call number, taped with Scotch tape to the spine, could be from a personal cataloging system, or from another library where the book once lived. But the original Lamont call number is still written in pencil on one of the opening pages.
Lanham will add the card to his collection as the newest, and oldest, specimen.