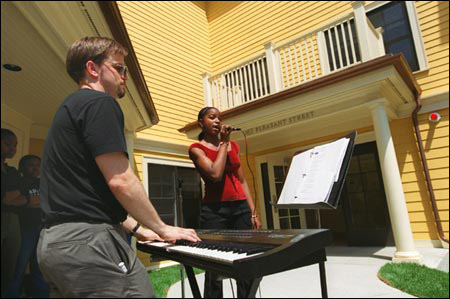 Pleasant Street Condominiums has officially opened, offering both Harvard faculty and Cambridge residents new home ownership opportunities in the Cambridgeport neighborhood, just minutes from Harvard Square. The housing complex brings sensitive development to the neighborhood and much-needed housing for Harvard affiliates and Cambridge residents.
The three-building, 120-unit complex at 157, 165, and 173 Pleasant Street was celebrated last week at an event attended by more than 100 people. Neighbors, members of the business community, city of Cambridge officials, representatives of Harvard University, and the project team turned out for a miniblock party to visit and tour apartments to the serenade of the Cambridge Rindge and Latin School Vocal Ensemble.
Completed in March by Spalding and Slye Colliers, the development includes 102 condominiums for Harvard faculty and 18 units for buyers qualified under the city's moderate-income, home ownership program. The project is the first new Harvard-owned housing development in Cambridge to provide housing for both affiliates and community residents.
"From the University's perspective, to have this housing is a multiple blessing," said Alan Stone, vice president for Government, Community and Public Affairs, who noted the positive community influence during the project. "It addresses Harvard and Cambridge's mutual need for more affordable housing options and has the potential to become a dynamic part of the rich texture of this community."
At the event, Cambridge Vice Mayor Henrietta Davis noted how responsive the project was to the neighborhood and its physical surroundings. "As a neighbor of the project, I am delighted to see how it turned out," said Davis. The complex's three wood-framed Neo-Victorian houses, located between Memorial Drive and Putnam Avenue, were designed to provide a transition between a new research and industrial park and a neighborhood of wood-framed houses. Replacing a former vacant parking lot, the complex opens to the surrounding neighborhood and maximizes open green space with parking for each building located underground.
According to Susan Keller, director of Harvard Real Estate, the complex is an important addition for Harvard with benefits to the broader community.
"In Cambridge's tight housing market, the complex offers affordable housing to local residents and helps address Harvard's pressing need for home ownership opportunities at a discounted price for faculty who might not otherwise be able to purchase homes in the area," said Keller. "This is the first time we can bring affordable housing to the community and we hope to be doing more." Harvard has made a commitment to include community housing units in new institutional housing development.
The Cambridge Community Development Department will be holding a lottery for qualified applicants for 18 condos. At present, Pleasant Street Condominiums is home to five Harvard affiliates. When filled, more than 100 faculty members and their families will join the neighborhood, enlivening the city street life. "This area used to be more commercial … this is great for the community," said a local Chestnut Street resident.