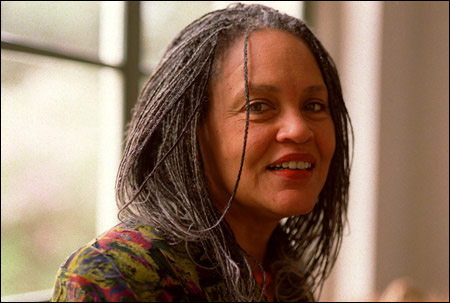 There's new news out of Africa, said veteran journalist Charlayne Hunter-Gault.
And while war, violence, and the death toll of AIDS continue to command world attention, much of that news, as African nations take baby steps toward democracy, is good.
Hunter-Gault, CNN's Johannesburg, South Africa, bureau chief and correspondent, delivered some of Africa's new news last week in three McMillan-Stewart Lectures, part of the W.E.B. Du Bois Fellowship Program.
"There are new realities now … new winds of change that are blowing through the continent. They hold out what I think is the promise of the most dramatic development in Africa since the end of colonial rule beginning some 40 years ago," she told an audience at the Center for European Studies on May 14.
With CNN since 1999, Hunter-Gault is familiar to television audiences from her two decades with "The NewsHour with Jim Lehrer," where she was a national correspondent. Honored with two Emmy Awards and two Peabody Awards, she was also National Public Radio's chief correspondent in Africa from 1997 to 1999. Before reporting the news, Hunter-Gault made news – as the first black woman admitted to the University of Georgia in 1961.
Africa's remedy to Africa's problems
In the second of her three lectures, Hunter-Gault moved beyond South Africa, the topic of her first talk and what she called "a real miracle," to explore news – good and bad – from Nigeria, Zimbabwe, Swaziland, and the Democratic Republic of Congo.
Leaders from South Africa, Nigeria, Senegal, and Algeria have been travelling the continent and the world to promote what Hunter-Gault called "Africa's home-grown remedy for its home-grown problems, a new deal to end the marginalization of Africa."
At the centerpiece of this "new deal" is the New Partnership for Africa's Development (NEPAD), which calls for good political, human rights, and economic policy in Africa in exchange for increased aid from Western nations.
Hunter-Gault called Nigeria, Africa's most populous country, "a virtual laboratory for the African remedy."
Although Nigeria is the world's sixth-largest oil producer, corruption has kept its people in poverty; two-thirds of its population lives on less than $1 per day. Yet its closely watched recent elections, while not uncontested, brought 65.5 million Nigerians to the polls, returning incumbent president Olusegun Obasanjo to power.
If Nigeria demonstrates the potential for African solutions to the nation's problems, Zimbabwe is its testing ground, said Hunter-Gault.
Its 2001 elections are still being contested, it suppresses the media (Hunter-Gault gained access to the country only by claiming she was reporting on a cricket match there), and its economy is in crisis.
"The country once hailed as the continent's bread basket is now being called the continent's basket case," she said, largely due to a devastating drought as well as Zimbabwe's controversial land-reform program that has collapsed its commercial farming sector.
Zimbabwean President Robert Mugabe has admitted that his regime is in crisis; a crisis many consider of Mugabe's own making.
"Instead of celebrating 23 years of independence from British Colonial rule last month, Zimbabweans were mourning the death of democracy," she said.
As the country's crisis spills over national borders, the complexities of addressing problems the African way come clear, said Hunter-Gault, citing the criticism of South African President Thabo Mbeke for his diplomatic negotiations with Zimbabwe. Playing "good cop-bad cop" with Zimbabwe, said Hunter-Gault, South Africa and leaders from other African nations have worked to support Zimbabwe while calling for improved human rights and peaceful regime change in that nation.
"The Zimbabwean people are attempting to do for themselves what others are failing to do," she said. "They themselves are attempting to redress the serious social, economic, and political problems facing the country." But will their actions negatively affect the willingness of Western donors to lend assistance, she wondered.
The democracy dividend
With 65 percent of Africans living on less than $1 per day and 40 percent attending only primary school, Africans must be convinced of what is being called the "democracy dividend" held out by the West, said Hunter-Gault. In a public opinion poll, nearly half the Africans polled said that their standard of living is worse under democracy than before, she said.
"If democracy can't deliver, people will look elsewhere," she said, to anarchy or to terrorism, which has done a good job of exploiting the poor.
Still, the same public opinion report noted that 70 percent of the respondents said that democracy was always preferable to non-democratic forms of government.
Despite the fact that Africa is still the poorest continent in the world, the biggest sufferer of HIV and AIDS, and the continent with the most external debt, "we are a lot more hopeful than we were five or 10 years ago," said Hunter-Gault.
Speaking in a conference room surrounded by memorabilia of the Marshall Plan, Hunter-Gault compared Africa's current development with that of the United States' early years or post-World War II Europe. Africans, she said, need the same kind of help forging their democratic societies that the United States offered to Europe after World War II.
"The phrase 'African solutions for African problems' should not be used as a cop-out for the rest of the world," she said. "Neither the children of Africa nor its young democracies will flourish if they are chronically malnourished. The nurturing of these children, and of the new democracies, and of the ideas that are being debated toward that end all add up, in my view, to something new out of Africa."