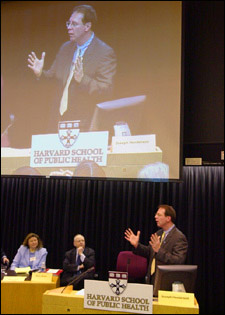 At one point in his presentation at the Harvard School of Public Health (SPH), Joseph Henderson, associate director of the Office for Terrorism Preparedness and Emergency Response at the Centers for Disease Control (CDC), asked his audience, "How many of you are planning careers in public health?"
About two dozen hands went up.
"Well, hurry up," he urged, "before the money runs out!"
The CDC finds itself in an odd position right now. With the economy faltering and most domestic programs on the cutting block, the CDC is being funded more generously than it has been in decades.
According to Henderson, the CDC's budget climbed from $50 million to $1 billion in the six months after 9/11. This dramatic rise in funding provides opportunities for those in the public health field, but it also raises questions. What is the most effective way for the CDC to prepare for future emergencies? Holding a public dialogue on this question was the purpose of Henderson's visit.
"A Conversation with the CDC" brought Henderson together with a panel of health professionals who questioned him about his agency's activities, priorities, and plans for the future.
The panelists included SPH Dean Barry Bloom; Dora Mills, director of the Maine Bureau of Health; Robert J. Blendon, professor of health policy and management at SPH; Anita Barry, director of the Boston Public Health Commission's Communicable Disease Control; Alfred DeMaria, state epidemiologist and assistant commissioner of the Massachusetts Department of Public Health; and Leonard Marcus, lecturer on public health practice at SPH. The moderator was Deborah Prothrow-Stith, professor of public health practice at SPH.
Henderson spoke about the lessons the CDC learned from the outbreaks of inhalation anthrax beginning in October 2001 and how those lessons helped it deal with later outbreaks of West Nile virus and SARS.
"We were a little bit caught off guard by anthrax, so we learned a lot," said Henderson.
The day after CDC officials learned about the first cases of anthrax in Florida, they set up an emergency operations center and were busy analyzing the deadly outbreaks. The keys to dealing with the emergency were clarifying roles and procedures, having an effective decision model, and communicating effectively. But there were other lessons to be learned as well.
"How do you keep people from burning out? Epidemiologists tend to drive themselves into the ground. Also, we learned that you don't throw the entire agency into one particular outbreak and ignore other health threats. You have to learn to load-balance."
Mills added her own perspective on how enhanced awareness of public health threats and greater funding have increased preparedness at the local level. In April, when New Sweden, Maine, was struck by a wave of arsenic poisonings, local health authorities were able to deal with the emergency more effectively than they would have formerly.
"Our response was 100 percent better than it would have been two years ago," Mills said. "We had someone on the site in a couple of hours, we were able to test for toxins because we had greater lab capacity, and we had a stockpile of antidote. We also had a much better working relationship with the police and the attorney general's office."
But as Henderson pointed out, the increased effectiveness of the emergency health-care system may not continue unless certain criteria are met. One of those criteria is reporting accurately to Congress.
"The day of reckoning is coming," Henderson said. "Congress will want to know. We must demonstrate sound methods and performance standards."
Panel members also asked about the role of the CDC in dealing with health-care emergencies of a global nature.
Henderson replied that the CDC has done well at maintaining global relationships. "Our relationship with China may be better than the State Department's relationship," he said. He also said that the CDC has been able to conduct effective training in smallpox vaccination and other health-care issues through the use of teleconferencing.
But he added that Congress has been somewhat reluctant to spend money on building up the health care infrastructure in the developing world, which often depends heavily on resources from the United States and other wealthier countries.
"There are very few countries that have CDC-like capabilities. You could probably count them on one hand," he said.