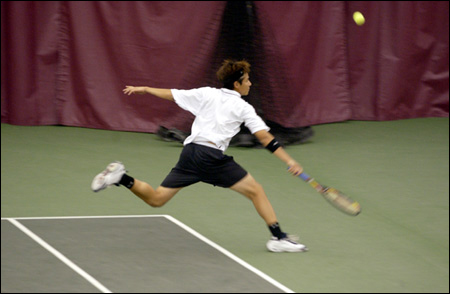 Playing host to a pair of Ivy challengers this past weekend, the Harvard men's tennis team scored two wins with a 6-1 upset of Columbia on April 11, and a 5-2 victory over Cornell on April 12. With the wins, Harvard remains perfect in league play, having downed Dartmouth, 7-0, earlier in the month in the Crimson's league opener. The Harvard racketeers now stand at 7-3 overall (3-0 Ivy).
Against Columbia, Harvard took the 1-0 lead after clinching the doubles point early on. In singles action, the Crimson built on its lead as Mark Riddell '04 posted a 7-5, 6-2 victory over Columbia's Yoku Kiuchi, while Jonathan Chu '05 and Cliff Nguyen '04 topped the Lions 6-4, 6-4, and 6-1, 6-1, respectively.
A day later facing the Big Red, Harvard opened the contest with a three-match sweep in doubles play. Playing on the second court, juniors David Lingman and Mark Riddell netted an 8-1 win before Oli Choo '03 and Cliff Nguyen '04 downed the Cornell tandem 8-3 to clinch the doubles point. Though the Big Red offered some resistance in singles play, taking two of six matches, Harvard's Chu clinched the team win, 6-2, 6-2.
For its next three matches, the No. 41 ranked Crimson will travel to Princeton, Pennsylvania, and Yale before hosting Brown in the season finale on April 25.
In women's action, the No. 18 Crimson (10-2 overall; 5-0 Ivy) will have an Ivy showdown with visiting Princeton and Penn this Friday (April 18) and Saturday (April 19) in matches that will decide this year's league champion. The action begins at 2 p.m. on Friday, and 1 p.m. on Saturday.