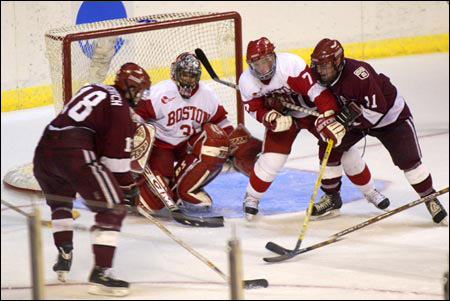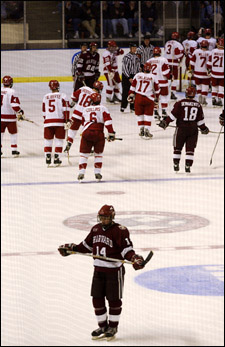 This past week's spring break provided little in the way of rest or relaxation for the Harvard men's and women's hockey teams. In fact, given the Crimson's recent string of heartbreakers in high-stakes tournament play, it seems that both squads – and their fans – have been treated to some rather cruel and unusual punishment instead.
The suffering began March 22 when the Harvard men fell to No. 1 Cornell in the ECAC Championship game, 3-2 in overtime, robbing the Crimson of a second straight ECAC title. Down 2-1, the Big Red forced the extra session with just 33 seconds remaining in regulation before notching the game-winner at the 1:23 mark.
Harvard's woes continued a day later in the women's NCAA championship game in Duluth, Minn., when Minnesota-Duluth notched a goal in double overtime to lift the Bulldogs, 4-3. Deadlocked at 3-3 in the second extra frame, Nora Tallus beat Crimson netminder Jessica Ruddock '04 (season-high 37 saves on the night) at the 4:19 mark with a pretty shot from the slot to capture the national title – and arguably one of the greatest games in women's NCAA tournament history.
And just this past Friday (March 28), after earning an at-large berth in the first round of the 54th annual NCAA tournament, the men's postseason play was cut short when crosstown rival Boston University denied the Crimson, 6-4. Tied 3-3 at the start of the third period, the Terriers exploded for three quick goals within a four-minute span to put the game out of reach.
The Crimson men closed out their season with a 22-10-2 overall record (19-5-1 league), their best in 10 years, while the Ivy Champion Harvard women – commanders of the No. 1 spot in the country for much of the season – completed the season with an astounding 30-3-1 mark (14-1-1 league).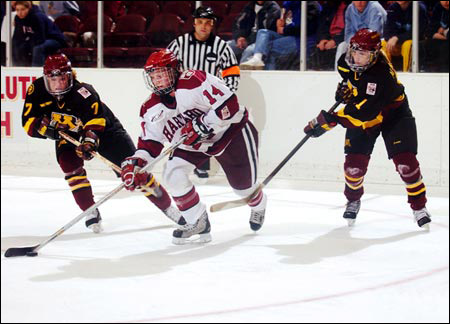 Between the two teams, nine seniors will hang up their Harvard skates. On the men's crew, they are Aaron Kim, Dominic Moore, Brett Nowak, and Ben Weiss. Tracy Catlin, Jamie Hagerman, Kalen Ingram, Pamela Van Reesema, and 2003 Patty Kazmaier Memorial Award winner Jennifer Botterill will close out their collegiate careers for the women's team.