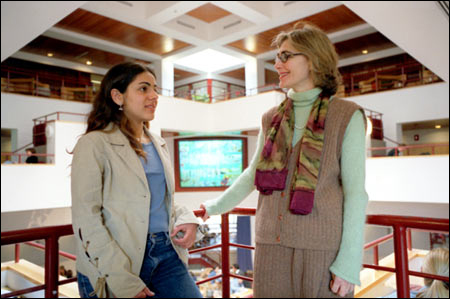 Ten Harvard undergraduates will lend their hands to causes such as slavery abolition, Middle Eastern peace, and aboriginal rights in a new human rights internship that will take them across the country and around the world – as far as Australia and East Timor.
The internship was established this year by the University Committee on Human Rights Studies as part of its multiyear effort to raise the profile of human rights studies and activities across campus. Executive Director Jacqueline Bhabha, an adjunct lecturer in public policy at the Kennedy School of Government and a lecturer at Harvard Law School, said the committee is targeting undergraduates with several efforts. Among them are last year's establishment of summer research grants for human rights-related work, this year's establishment of the human rights internship, and the committee's current work with the Faculty of Arts and Sciences to develop courses with human rights components.
"The idea is to raise the profile of human rights to [Harvard] undergraduates," Bhabha said.
The committee, with help from a grant from the Third Millennium Foundation, will provide a stipend of up to $5,000 for the 10-week internships to help students with living and travel expenses during their stays. This year's students are staying as close as Boston and Washington, D.C., and traveling abroad to Costa Rica, India, East Timor, London, and Geneva.
Bhabha said the stipend is a critical part of the program, as many of the human rights organizations are nonprofits without a lot of extra money to pay an intern. Interns communicate with their summer supervisors before leaving, she said, so both sides know what to expect. The interns will likely do a mix of tasks, including research, public speaking, and other activities the hosting organization needs.
"I think the organizations realize they're getting a really good resource," Bhabha said. "This should be mutually beneficial. It shouldn't be exploitative of the student and it should also not be a burden on the organization."
On their return, the students will write reports and make presentations on their experiences at a seminar with members of the University Committee on Human Rights Studies.
Students accepted to the internships are excited about the prospect of working in a field they uniformly feel a passion for.
"I do not feel as if I have a choice in the matter. There is nothing else that I could do that would not leave me believing that I had at some point let myself down," said Daniel Stewart, a senior who will be interning at the Australian Human Rights Center in Sydney. Once there, Stewart will work on human rights issues involving Australia's indigenous people.
Stewart said he will likely seek a law degree after the internship and eventually use those legal skills to continue working on human rights issues.
Several students said they plan to pursue work in human rights upon graduation or after completing the internship – as several outgoing seniors have been awarded the internships.
"Hopefully this internship will help me decide whether I would like to undertake a career in public service and human rights," said Rita Hamad '03. Hamad, an Arab-American, will be working at the Global Exchange in San Francisco, a nonprofit research education and action center working to educate the U.S. public about human rights. Hamad said she will be working on human rights issues related to the Palestinians in the West Bank and Gaza Strip.
Junior Stephanie Brewer will be spending the summer working with Anti-Slavery International in London. Brewer first became aware of the worldwide problem of slavery during her freshman year at Harvard. In addition to helping with the day-to-day functions of the organization, she said she wants to understand the issue more, with a particular focus on the psychological effects of slavery on child slaves.
"A human rights internship represents an opportunity to accomplish something meaningful that affects people in the real world, rather than just earning money in a more traditional summer job," Brewer said. "[This is] exactly the sort of work I hope to do after I graduate."