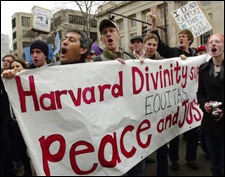 Hundreds of Harvard students walked out of their classes at 12:30 p.m. March 20 to demonstrate their opposition to the war on Iraq. The rally was part of a nationwide action on college campuses. Gathering at the historic John Harvard Statue and filling the Old Yard back to Massachusetts Hall, students, faculty, staff, and community members heard speeches and chanted, "No war on Iraq! Bill of Rights, take it back!"
"We refuse to stand by idly while unnecessary slaughter and destruction is committed in our name," Matthew Skomarovsky '03, a member of the Harvard Initiative for Peace and Justice (HIPJ), which sponsored the walkout, said in a speech. HIPJ estimated the crowd at more than 1,200. Other speakers were faculty members Brian Palmer, lecturer on the modern West in the study of religion, Tim McCarthy '93, lecturer in history and literature, and English Professor Elaine Scarry; and students Lexy Vanier '05, Rita Hamad '03, and Mike Getlin '05, who was accepted to the Marine Officer Candidate School.
"Yesterday, I withdrew my application from the Marine Corps after having asked myself some questions I could not answer," Getlin told the cheering crowd, which included high school students from Cambridge Rindge and Latin and Belmont High. Crowd members held a variety of signs including "Peace is the only protection," "Harvard students say no to war," and "Regime change begins at home."
"I had to come out here to voice my shock that we as a country have proceeded this way," said Michael O'Neill '03, putting the finishing touches on a sign that said "Shocked but not awed."
Following the demonstration at Harvard, protesters marched down Massachusetts Avenue toward the Massachusetts Institute of Technology in a column that stretched several blocks. Passing cars honked their support as the protesters chanted, "Support our troops, bring them home" and, from some Somerville High School students with a sense of humor, "Somahville says wah is nevah the ansah." Along the route, small groups of counter-protesters waved flags and shouted their opposition.
Reasons for demonstrating varied among the marchers. To Harvard sophomores Kristin Garcia, Irin Carmon, and Sarah Tucker, their positions of privilege as Harvard students compelled them to action. "There's an obligation to be out here doing this," said Tucker, adding that most of the soldiers who would fight this war did not have the opportunity to attend an Ivy League school.
Three-year-old Aaron Fox, "marching" from atop the shoulders of his mother, Marianne Fox, had a toddler's perspective on the conflict. "Stop fighting and use your words," he said.
The march proceeded down Massachusetts Ave., stopping briefly at M.I.T. to gather additional protesters there before continuing into Boston, where rallies were scheduled at Government Center and Copley Square.