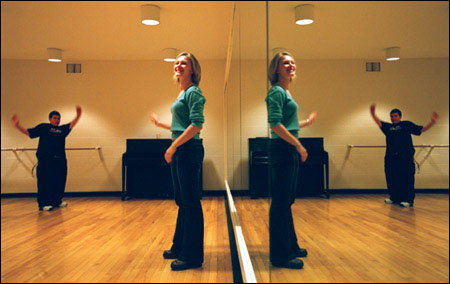 Sabrina Peck '84 never thought that the combination of dance theater, public service, and education that seemed so specific to her would appeal to generations of Harvard students. It follows that she never imagined that such a combination could propel her program, CityStep, to the ranks of the campus' most popular, enduring civic activities.
What began as an intention to unite her broad-ranging interests into one evening-length performance mushroomed into a public service program that has involved hundreds of Harvard undergraduates teaching a yearlong dance theater curriculum to thousands of Cambridge Public School students. Every year culminates with a gala performance by six classes for teachers, families, and the community. This year's takes place April 11 and 12 at Cambridge Rindge and Latin High School.
"The popularity of the program is staggering to me. I'm floored by the caliber of these students, by their heart and talent and caring and commitment," said Peck, who founded CityStep as a Harvard undergraduate in 1983 and spent two years after graduation ensuring successive classes were equipped to carry on successfully.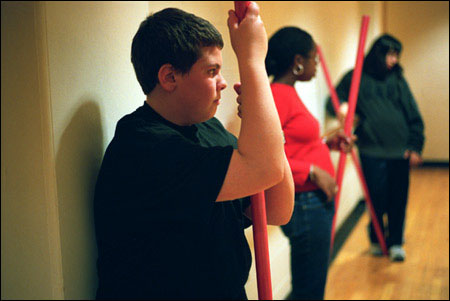 CityStep's aesthetic roots emerged from the original piece undergraduate Peck choreographed, which brought together students of diverse interests and backgrounds to explore the lives of urban characters through dance. From that she distilled a workshop that she took into a public school classroom to demonstrate "the power of dance theater to express story, character, and emotion." It piqued children's interest so effectively that she was inspired to devise a structured program to facilitate the self-expression of young people through movement. The creation of the program was instinctual. "I saw the need in kids to express themselves, their imaginations, their experiences. And I saw how naturally they responded to movement as a tool for that self-expression," Peck recalls.
She set about tapping the University's "formidable resources," directing fundraising efforts at 10 offices. "It was all working toward the goal of giving [public school] kids the incredible human capital of [college] students who were so amazingly talented, energetic, and civic-minded. It seemed like a natural fit to harness that resource for the benefit of public school kids. And bringing students outside ivy walls into the community was such an eye-opening, edifying experience for them."
Her goal continues to be realized today in a program that unites 64 Harvard undergraduates of various interests – athletes, dancers, composers, actors, managers – in six teams to teach Peck's dance curriculum to children. Each team consists of up to six teachers and an overseeing director. Four of the teams visit fifth-grade classrooms two mornings a week, and two host after-school sessions on campus for sixth- and seventh-graders, each of whom have gone through the program as fifth-graders. There is also a board of 17 producers that writes grants, handles the logistics of the year-end performance, and organizes events like bringing the kids to professional productions.
CityStep celebrates several milestones in 2003. Not only is it the 20th anniversary, but this year marks the program's expansion to include the seventh-graders. Katie O'Brien '04 is the director of the class dubbed "Third Year Program" (3YP). She explained that where the fifth-grade curriculum focuses on using dance to foster self-esteem and the sixth-graders concentrate on choreography, the seventh-graders partake in a more acting-intensive, performance-based program. They participated, for instance, in a show with the undergraduate troupe Expressions.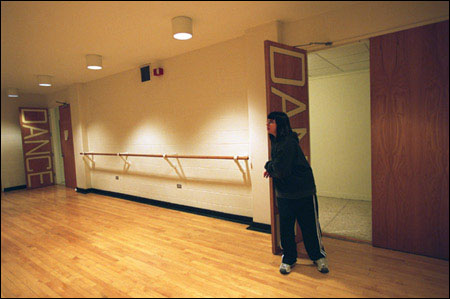 Last Friday afternoon (April 4), the energy was big and the concentration was fierce when the 3YPs convened for their weekly session to rehearse for this weekend's show. The theme is "Explore, Dream, Discover" and each class has developed a performance revolving around the concept of a new frontier, from space to the body. There is also a finale involving all the classes, a unifying occasion for the whole program to exhibit Peck's founding philosophies at work.
"The experience of moving together is very community-building. In the finale, when all the kids move in unison, they literally embody the idea that they all have something in common. Equally important is the idea that each child is unique. Composition allows for different individual impulses to work in concert, affirming each child's individuality in the context of the group. Both kinds of movement are important in the show because both messages need to be reinforced," said Peck, who, since graduating, has gone on to teach at Duke and New York University, and develop community-based theater works with companies like New York Shakespeare Festival, Arena Stage, and Cornerstone Theatre, which was founded by her college classmate Bill Rauch.
In its earliest incarnation, CityStep encouraged a reciprocal exchange between Harvard students and public school children. Two decades later, both parties are still seeing a steady stream of returns. It's a payback to which Tiffany McNair '03 can attest. She gushes that the program has been the highlight of her jam-packed undergraduate career. But her enthusiasm would be evident even if she weren't so effusive by the fact that she has been a CityStep teacher since she arrived at Harvard. Being a teacher is no small commitment. Beyond classroom time, there are two meetings to attend each week in addition to choreography sessions. But the time, she said, is a small investment given the returns.
"CityStep is like family to me. We watch kids grow," said McNair. "I've seen kids want to lead an activity or be in the front line of dance, whereas initially they were shy and wanted to stay in the back and go with the flow."
To hear Peck explain it, CityStep simply helps the flow run smoothly.
"When you move onstage, you basically put your entire self out there, both physically and emotionally. It's a full-body commitment in every sense of the word. To be supported by peers who are doing it with you and to be validated by an audience of parents, teachers and the community is empowering.
"You can see it in the kids: After a year in CityStep they're more confident about how they move and what they have to say in the world."