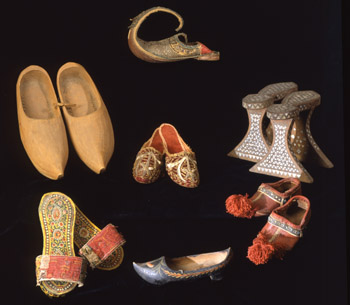 Sensible or fashion-foolish … practical or stylish … sandal, boot, slipper, or clog … shoes in all their forms almost universally capture our fancy.
So it's hardly surprising that the Peabody Museum of Archaeology and Ethnology is already kicking up interest for its newest exhibit, "These Shoes Were Made for … Walking?", which opens in the Tozzer Library Gallery adjacent to the museum with a public reception tonight (Feb. 6).
The exhibit culls 49 of the finest, oldest, most beautiful, and most outrageous shoes from the Peabody's enviable collection of nearly 1,000 shoes. Unlike most ethnographic exhibits, "These Shoes" is cross-cultural, letting the visitor compare sandals from Afghanistan with those from Syria, or boots worn by Tibetan lamas with those of Mongolian horsemen.
Displayed thematically – The Sensible Shoe, The Length of Fashion, and The Height of Fashion, as well as boots and the tiny lotus shoes of Chinese foot-binding – all the shoes are ethnographic: they are everyday shoes of ordinary people.
"Most were all collected or purchased off somebody's feet," says Pamela Gerardi, curator of the exhibit and director of external relations for the museum. And you won't find those feet tromping the sidewalks of Harvard Square: no Manolo Blahniks here, just examples from history of how we've protected our feet and expressed our style.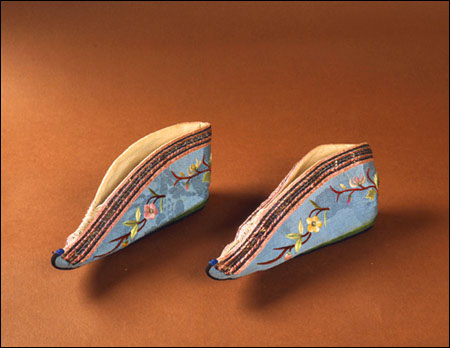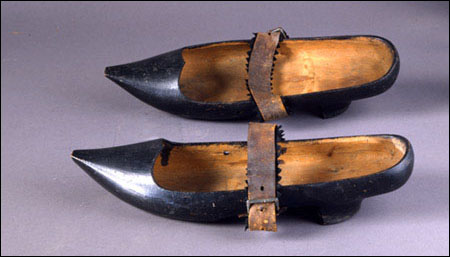 From practical to ridiculous
"These Shoes Were Made for … Walking?" illustrates how, throughout history, fashion followed quickly on the heels of function. High platform shoes or sandals, for instance, were originated to keep the wearer's feet or robes off the ground, out of the muck or wet. A pair of platform sandals from Afghanistan, just a few inches high and hewn roughly from wood with leather straps, and traditional Japanese geta sandals painted with a cartoon of a subway car illustrate the function of height.
At the fashionable end of the height spectrum, a pair of Syrian kabkabs – platform sandals named for the clomping sound they made – rises 16 inches from the ground. Designed to keep the wearer clear of hot, wet bathhouse floors, the kabkabs in the exhibit soar fashionably with inlaid mother-of-pearl and carved detailing.
High heels, the pain and pleasure of well-dressed women today, are also rooted in practicality.
"Heels are a newfangled invention," says Gerardi, adding that they first appear in the 16th century and gain in popularity – for men as well as women – for the next several hundred years. It's believed that heels developed from repeated patching of the wear on the heels of shoes. Over time, those patches built up into heels.
Later, they were added to some shoes and boots worn for riding to help secure the foot in the stirrup.
Peabody Museum of Archaeology and Ethnology and Tozzer Library present 'These Shoes Were Made for … Walking?' Opening reception Feb. 6, 5-7 p.m. Enter the Tozzer Library Gallery through the Peabody Museum entrance, 11 Divinity Ave. Exhibit runs through February 2004. For information, call (617) 496-1027 or visit http://www.peabody.harvard.edu.
The long and the short of shoes
The practical origins of shoe length are more elusive. Deep in the bowels of the Peabody Museum, where Gerardi and exhibit designer Samuel Tager have laid out some of the shoes in a staging area, Gerardi carefully cradles a 19th century "Turkish" slipper, actually from Syria.
"This is my personal favorite," she says, running her gloved fingers along the slipper's playfully curled toe. Shoes from all over Asia typically have such upturned or curved toes, which range from a Mongolian riding boot's demure upturned ski jump to the Turkish slipper's 20-inch loop-the-loop, but the practical purpose is unknown.
A symbol of status, the long curled toe appears in 1500 B.C. and by the 13th century had reached lengths of up to 30 inches.
In China, from the 13th century through the 19th century, foot binding took shoe lengths to the opposite extreme. The Peabody exhibit showcases the tiny artistry of several embroidered silk lotus shoes worn by bound feet.
While most of the lotus shoes in the exhibit hover around 5 inches in length, the ideal bound foot was an unrealistic 3 inches, Gerardi says.
While bound feet certainly marked status – it rendered the girls unable to walk freely and thus unable to work – the lotus shoes, like the curled toes of other Asian shoes, have no functional purpose.
"They are completely unreasonable for any purpose at all," says Gerardi. "But everyone loves them. They're horrible and fascinating at once." She adds that foot-binding became so popular in 19th century China that another pair of shoes in the collection, embroidered full-size Chinese slippers balanced on a high pedestal, were designed so the wearer imitated the mincing step of the bound foot.
The fashion of function
Even in the "Sensible Shoes" collection, composed of primarily North American moccasins and fur boots and mukluks, the fashion of function shines in stunning bead, quill, or decorative appliqué work.
"Decoration is as old as shoes," says Gerardi, noting that even some of the earliest-known shoes, from caves in North America, have decoration. "It seems to be a very human thing to do, to decorate one's self and one's clothing."
And while "These Shoes Were Made for … Walking?" certainly highlights fashion's extremes, Gerardi points out that throughout history and across cultures, function, not form, has stepped out ahead.
"It's a very practical thing, your feet. They're critical to your survival," she says. And ways to cover and protect them are limited.
"The forms are remarkably similar across cultures. The functions are remarkably similar across cultures," she says. "In fact, today, every shoe design is very old. It's very persistent." Gerardi notes that even today's shoe fashions are dictated by function: sports are driving shoe design, and the quest for a faster running shoe spills over into an ergonomic footbed in a pair of high heels.
A historian of the ancient Middle East, Gerardi stumbled into guest curating this exhibit. She couldn't have done it, she says, without the help of many at the Peabody, from exhibit designer Tager and his staff to the collections assistants who offered invaluable firsthand knowledge of the riches of the Peabody's shoe closet.
"They know all sorts of wonderful nooks and crannies," she says.
Yet for all her recent research, Gerardi, shod in basic black pumps, is not entirely sure why people are so fascinated with shoes.
"They're very accessible," she surmises, adding that culturally, we invest great meaning in clothing, deriving from it an understanding of status, wealth, and personality. "We're interested in shoes because we understand them."