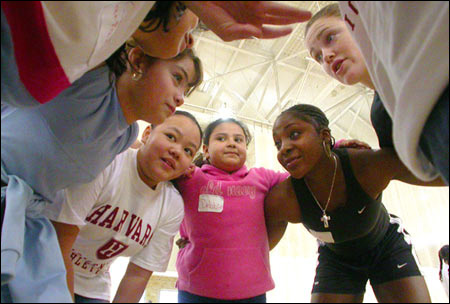 It was a quiet, bright, snow-blanketed Saturday morning (Feb. 8), the kind that keeps most college students snug in warm beds until late. But inside Malkin Athletic Center, some of Harvard's women athletes were already working up a sweat while awaiting the arrival of an important team – young girls from Allston-Brighton, East Boston, and Cambridge.
As the girls arrived one by one, the center's indoor court came alive. Shouts in English and Spanish mingled with the squeak of sneakers. Exuberant faces dodged past as the soccer ball zigzagged from girl to girl until … tumble! A young woman with powerful shoulders bent over and patted her young teammate on the back … job well done.
The same high-paced scene has been repeated at Harvard for a decade as women athletes and girls from the surrounding communities come together each year to celebrate the growth of women's athletics and inspire young girls to get involved in team sports. This year, Harvard's National Girls and Women in Sports Day celebration drew more than 60 varsity athletes, members of the volleyball, basketball, softball, lacrosse, water polo, soccer, and swim teams, and girls from the community, ages 9 to 14, who participated in rounds of water polo, basketball, soccer, and floor games.
When asked what the day means to them, the younger girls say, "it's fun." But one day they will see that sports has a lot more to offer them. They just have to look into the faces of their older court-side peers to see what it's like to play on a team, the benefit of being in a healthy environment, of staying fit – and the boost that high self-esteem gives them in everyday life.
"When one of the girls makes a basket, they get so excited that they hug each other," said Tricia Tubridy '04, with the basketball team, who noted that a huge part of the team's fan base are young girls from the community. "They are so excited to be here. It reminds me of how lucky I am to be here, too," said Mariah Pospisil '05, who plays on Harvard's volleyball team and has volunteered at National Girls and Women in Sports Day for the past two years.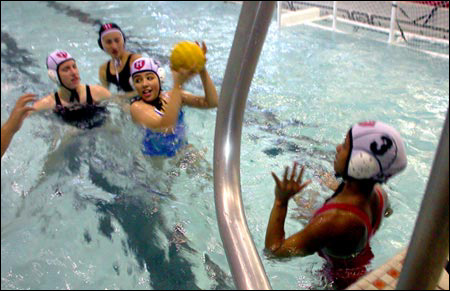 While the day gives girls a glimpse of team sports and one-on-one contact with varsity athletes, the Harvard women athletes enjoy themselves, too. But they also know what the program means to the local community. "These women are not only fabulous in their sport, they are exceptional in the classroom and they want to share their skills with young girls at events that open doors to the community," said Jennifer Weiss, head coach for the Harvard women's volleyball team. "It is great for our athletes to teach, lead, and mentor the girls."
For Crimson athletes, opening these doors is more than a half-day commitment once a year. In addition to balancing classes, studies, practice, competition, and life, many make time for a number of community outreach programs. This semester some 40 additional athletes, men and women, will join dozens of teammates who already tutor students at three Allston-Brighton and one Cambridge middle school each week. A new program called "starlings," that offers two-hour weekly volleyball clinics to area children who may not otherwise have the funds to play club sports, just started this week with members of the women's volleyball team. The tennis team, both men and women, run an annual program called "Tenacity," in which athletes mentor area youth in tennis and academic work. Other volunteers include the women's softball team, who help out with Boston Police after-school programs and the Girl Scouts, and the squash teams, who offer squash sessions and tutor area youth.
But even a half-day on a sunny Saturday can make a difference for a young girl. "Each one of these girls will take away one thing from this day – how to dribble, the skills involved in water polo, what it's like to play on a college court, or they will find someone they can look up to," said Weiss.