A good-natured Whitney – er, Anjelica – Huston took a ribbing as well as a faux beating Thursday (Feb. 6) to earn her pudding pot as this year's Woman of the Year for the nation's oldest collegiate drama troupe, Harvard's Hasty Pudding Theatricals.
Huston was the guest of honor at the annual roast, going from the chill of the traditional parade down Massachusetts Avenue – featuring club members in drag – to the warmth of the Hasty Pudding Theatre. Things got warmer still for Huston when she was called up onstage by Hasty President Stefan Atkinson and Vice President of the cast Shawn Snyder.
Atkinson and Snyder's schtick for the roast was that they thought they had invited singer Whitney Houston, who starred most notably in "The Bodyguard" with Kevin Costner. They realized their error, stage whispering "This is the actress – the good one," after Huston failed to belt out Houston's signature song from the film, "I Will Always Love You."
For the rest of the 20-minute roast, Atkinson and Snyder prompted Huston to prove her identity by acting out scenes from her movie career, from her little-known first performance in 1969's "A Walk With Love and Death" to one of her best-known turns – as Morticia Addams in 1991's "The Addams Family."
Huston, clutching a stuffed pig tossed into her convertible during the parade, took it all with good grace.
"I've always had this reverential idea about Harvard because I didn't complete high school myself," Huston said after the ceremony. "So I've always thought of universities, particularly this one, as being a very hallowed place. I can say that opinion has been radically reversed."
Huston is in good company, joining such Hollywood legends as Lauren Bacall, Debbie Reynolds, and Katharine Hepburn on the roll of Pudding Woman of the Year. Recent recipients include last year's Sarah Jessica Parker, 2001's Drew Barrymore, and 2000's Jamie Lee Curtis.
The annual Woman of the Year parade and ceremony comes a week before the Man of the Year award, this year going to director and producer Martin Scorsese. Scorsese's roast and Pudding Pot award come on opening night of Hasty Pudding Theatrical's 155th production, "It's a Wonderful Afterlife." The show runs for four weeks in Cambridge, and then adjourns to play in New York City and Bermuda during spring break week.
Founded in 1795, the Hasty Pudding Club Theatricals evolved from holding mock trials of club members for insolence and contempt of the club to today's student-written drag burlesque shows, along with the attendant notoriety of the Woman and Man of the Year ceremonies.
Huston has earned many honors during her career, including the Academy Award for Best Supporting Actress and the New York Film Critics Award for her role as Maerose Prizzi in 1985's "Prizzi's Honor." She received Academy Award nominations for her roles in 1989's "Enemies, A Love Story" and in 1990's "The Grifters."
More recently, she starred as Morticia Addams in "The Addams Family" in 1991 and in the 1993 sequel, "Addams Family Values." She also starred in Woody Allen's "Manhattan Murder Mystery" in 1993, "The Royal Tenenbaums" in 2001, and Clint Eastwood's 2002 release "Blood Work."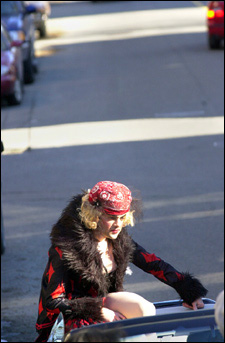 Huston's cool during her Hasty Pudding appearance may be traced to her show-business roots. Her father, John Huston, directed such legendary movies as "The African Queen," the "Maltese Falcon," and "The Treasure of the Sierra Madre." The latter film won Huston's father and her grandfather, Walter Huston, also an actor, Academy Awards. The three generations of Academy Award-winners make the Huston clan unique in Academy history.
Huston's day at Harvard started with a morning tour through Harvard Yard featuring the historical Massachusetts and Harvard halls, Widener Library and the John Harvard Statue. From there, she described it as an "ever-escalating exercise in insanity."
The annual Hasty Pudding Parade wound its way down Massachusetts Avenue just after 2 p.m., featuring two cows and two llamas, a truck handing out free cups of pudding, Harvard cheerleaders and dance team members, a real beauty queen – Miss Massachusetts Melanie Beth Correia, and the Hasty Pudding boys.
A dozen or so cast members from this year's production – all in drag – surrounded Huston and her convertible. Among them were lots of feathers, falsies, and frills, a medieval maiden, a fairy something or other, one babe with BIG white hair, and a couple of showgirls. By the end of it all, Huston had been feted, mocked, and tangoed to her latest acting honor. She apologized to the crowd for not being "infinitely better prepared" for the roast, saying she thought she'd be in the audience watching, not front and center onstage.
"I'm very warm," Huston told the audience at roast's end. "I was told this was a cold climate. Far from it."