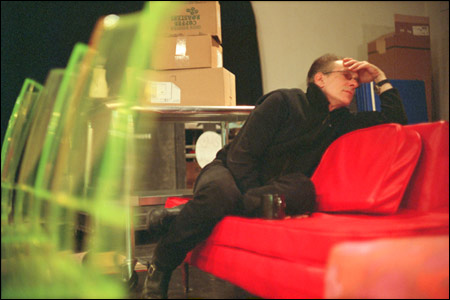 Rinde Eckert respects the classics, but he isn't afraid of them. In his theatrical productions and performance pieces, he has radically reinterpreted classic texts by Dante, Shakespeare, Herman Melville, and many others.
These pieces go far beyond casting Richard III as a fascist dictator or Hamlet as the son of a modern-day CEO. Eckert is not shy about dismantling these masterworks down to their basic elements and reassembling them to create entirely new vehicles. In his play "And God Created Great Whales," for example, his highly acclaimed riff on "Moby Dick," a composer struggles to complete an opera based on the novel while battling progressive memory loss.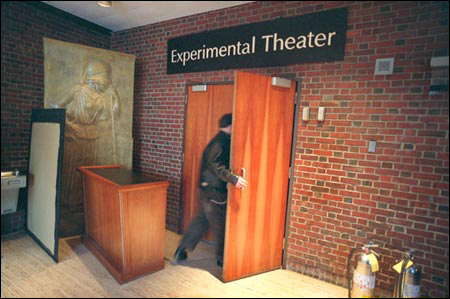 In his latest effort, "Highway Ulysses," which will debut at Harvard's American Repertory Theatre (A.R.T.) this Saturday (March 1), Eckert takes on one of the world's oldest stories, Homer's "Odyssey."
The play grew out of an earlier piece by Eckert called "Three Days in the Sun," a song cycle about a hitchhiker who plays along with a couple's misguided assumption that he is Jesus Christ. Eckert avows that he based the play on a real experience.
After Robert Woodruff took over as the A.R.T.'s artistic director last year, he commissioned Eckert to write a larger theatrical piece based on "Three Days in the Sun." As he worked on the piece, Eckert conceived the idea of merging the wanderings of his pseudo-Jesus with those of literature's most famous wanderer, Ulysses.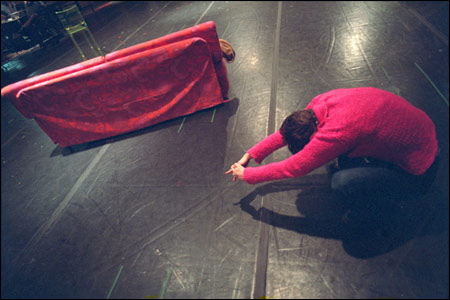 Eckert's Ulysses is not the indomitable survivor of Homer's epic, but a traumatized war veteran haunted by the many deaths he has caused. His famous cunning now appears as a propensity to bend and distort the truth, a characteristic he shares with today's propagandists and spin doctors.
Eckert, a classically trained singer, musician, and composer, as well as an actor and movement artist, has been working with Woodruff and a cast of musicians and performers to bring "Highway Ulysses" to life. What can theatergoers expect from this collaboration?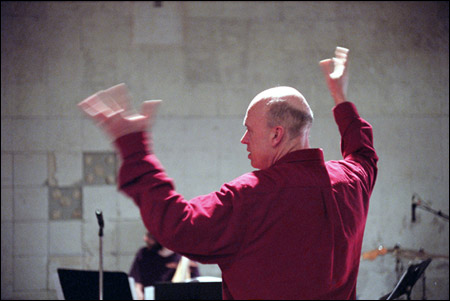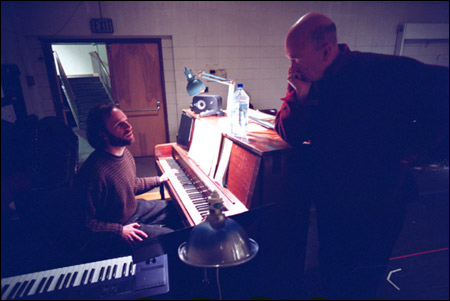 If past achievements are any indication, quite a lot. Critics have consistently praised Eckert as an avant-garde performer whose quirky and original ideas are matched by dazzling talent and technique. The New York Times described one of his presentations as "the most striking performance art since the early days of Laurie Anderson," while the Portland Oregonian said that Eckert was "not a performance artist, but a performance genius."
This will be Woodruff's directorial debut since he took over as artistic director, but it is not his first A.R.T. production. He has staged three earlier plays at the Loeb Drama Center – Bertold Brecht's "In the Jungle of Cities," Charles Mee's "Full Circle," and William Shakespeare's "Richard II." And while critics have not always agreed in their assessments of these productions, they have been consistent in labeling them as genuinely challenging and innovative. In fact, Woodruff has reaped praise for his formidable stagecraft since he directed the premier performances of many of Sam Shepard's early plays in the late 1970s and early '80s.
Put these two original talents together with a group of accomplished performers, give them several months to develop and perfect their material, and then set the result to music by the alternative improvisational rock band Empty House Cooperative – it's enough to make anyone curious about what's coming down this highway.