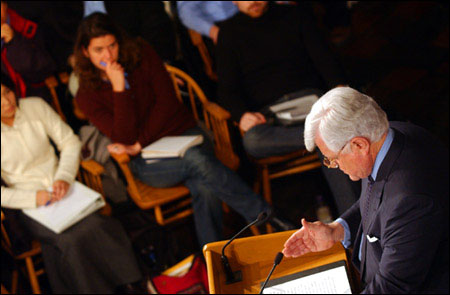 U.S. Sen. Edward M. Kennedy continued his attack on President Bush's Iraq and domestic policies Friday (Jan. 24), calling the looming Iraq conflict the "wrong war at the wrong time" and assailing policies on education, health care, taxes, and affirmative action during a speech at the Kennedy School of Government.
The themes in the 30-minute speech were similar to the ones Kennedy hit in his Jan. 20 speech at the National Press Club in Washington D.C., when he emerged as a strong Democratic voice countering many key Bush policies and assailing the Republican administration for policies that favor the rich while ignoring the struggles of the rest of America.
"We must put aside policies which lavish benefits on some, while ignoring what it is like to be poor and struggling, to be unemployed, to be old and phased out of a career, to be a woman, to be a worker, to be disabled, to be gay, to be an immigrant, to be a victim of discrimination," Kennedy said.
Institute of Politics Director Dan Glickman, who introduced the senator from Massachusetts, said Kennedy's influence has been felt nationally and globally during his 40-year tenure in the U.S. Senate, noting that Kennedy has become one of the chamber's "giants." Glickman said Kennedy is known not only for standing up for his beliefs, but also for the legislative acumen that puts those beliefs into action.
Kennedy, a member of the Institute of Politics' Senior Advisory Committee, was in friendly territory for the speech, which was interrupted several times by applause. He remarked at the beginning of his talk that it was an honor to be speaking at the school named for his brother, President John F. Kennedy, and in the forum, which Kennedy School officials have announced will be renamed after the late president's son, John F. Kennedy Jr.
The speech was co-sponsored by the Harvard College Democrats and the KSG Democratic Caucus.
Kennedy praised Bush for his initial handling of the war on terror, but said the president has squandered the good will of the international community with a "my-way-or-the-highway" foreign policy and a unilateral push for a quick war on Iraq. In addition, he said, the administration's focus on Iraq detracts from both its pursuit of Al Qaeda and the crisis in North Korea, which Kennedy said is more pressing because of North Korea's expressed goal of building nuclear weapons and because of its willingness to sell missiles abroad.
Kennedy argued that United Nations weapons inspectors should be given more time to do their jobs in Iraq and that anti-terror preparations at home – in hospitals and clinics, and with police and firefighters – should be beefed up.
He was no less critical of Bush's domestic policy, criticizing what Kennedy sees as the under-funding of school reforms in the No Child Left Behind Act, saying that "when the klieg lights go out and the bunting comes down and the cameras leave, the money isn't there."
Higher education, too, needs federal action, Kennedy said, advocating increases to ensure that college education is affordable for everyone qualified to attend.
On health care, Kennedy said the challenge is not to make new gains, but to prevent the Bush administration from moving the nation backward. He opposed bans on stem cell research and changes to Medicare, and called for overall systemic reform that would expand employer-provided insurance to all full-time workers, with federal aid available to help small business owners pay for the program.
Paying for federal programs would be difficult if Bush's tax plans go through, Kennedy said. He criticized tax-cut proposals that he said would mainly benefit the rich. At a time when Bush has called for national sacrifice amid the war on terror, Kennedy said, "We cannot say it's wartime for the rest of America, but still peacetime for the rich.
"The last thing we need is policies that divide us at home by race and riches. The ideals of America are not realized but denied by relentless ideology of tax giveaways for the few – and then even more tax giveaways for the few."
He called for a bipartisan budget process that first identifies how much extra money the government will have over the next 10 years and then allocates half to tax cuts and half to spending priorities.
Kennedy was also critical of the president's stance on Affirmative Action, saying the administration is "no friend of minorities and no force for civil rights."
During the question-and-answer session following his speech, Kennedy acknowledged that there are fewer paths for young people to get involved in politics than in the past. He added, however, that there were always individual campaigns to work on, and he voiced his support for fellow Massachusetts Democrat John Kerry, who is seeking the Democratic presidential nomination.