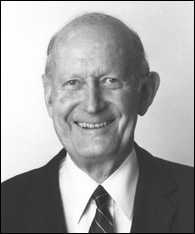 C. Douglas Dillon '31, LLD '59, the former U.S. treasury secretary and president of the Harvard Board of Overseers whose accomplishments spanned the realms of government, diplomacy, finance, economics, and art, died last Friday (Jan. 10) at age 93. Dillon had lengthy and distinguished careers in investment banking and public service, ultimately serving in the administrations of three U.S. presidents.
After graduating magna cum laude from Harvard, Dillon bought a seat on the New York Stock Exchange and went on to become president of the United States and Foreign Securities Corporation. In 1938, he became a vice president and director of Dillon, Read and Company, an investment bank founded by his father, and was later elected chairman of the board.
Dillon's Wall Street career was interrupted for active duty in the Navy, and he was called back into public service when President Dwight D. Eisenhower appointed him ambassador to France in 1953. He went on to serve as undersecretary of state until President John F. Kennedy appointed him secretary of the treasury in 1961. He continued in the role of treasury secretary during President Lyndon B. Johnson's administration.
"We are grateful for his leadership during a critical time in Harvard's history, and his efforts to see that Harvard might become a truly international institution," said President Lawrence H. Summers. "This university and our nation both owe much to Douglas Dillon."
After 12 years of government service, Dillon returned to New York in 1965 and became president of the Metropolitan Museum of Art , where he spent years expanding the museum's collection of Asian art and orchestrating the museum's fundraising campaigns. He also returned to the private sector as chairman of Dillon, Read and as president of the United States and Foreign Securities Corporation and of the United States and International Securities Corporation, positions he held until 1984.
Throughout his life, Dillon maintained close ties with Harvard, serving two terms on the Board of Overseers and as president of that board from 1968 to 1972. He served on 11 visiting committees, including the Kennedy School, the Center for International Affairs, and the School of Public Health. He was a charter member of the Executive Committee of the Committee on University Resources, and served as an honorary campaign chair for the University and as a member of the president's International Committee.
Dillon volunteered his time on his class steering committee for nearly a decade, and was class chairman from 1997 to 1999. He was also chairman for the Class of 1931's 65th reunion gift.
Several funds in the Faculty of Arts and Sciences bear the Dillon name: the Dillon Fellowship Fund, to support undergraduate and graduate students from outside the United States who attend Harvard, the Dunwalke Junior Faculty Professorship of American History (the first endowed junior professorship at Harvard), the C. Douglas Dillon Professorship of the Civilization of France, and the Clarence Dillon Professorship of International Affairs. Dillon and his father, Clarence Dillon '05, also established the Dillon Field House Endowment. In addition, the Weatherhead Center for International Affairs created the C. Douglas Dillon Faculty Research Fellowship in International Affairs in his honor.
Kennedy School Dean Joseph S. Nye Jr. recalled Dillon's devotion to Harvard and his frequent trips to Cambridge to participate in public affairs programs, such as the commemoration of the 25th anniversary of the Cuban missile crisis. "He was very helpful to me when I was director of the Center for International Affairs," Nye said. "He was a great citizen of Harvard, and of the country."