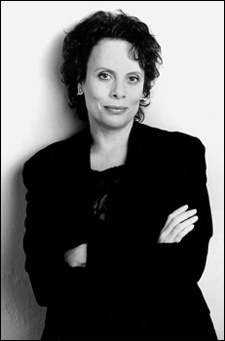 Emily Mann, artistic director of the McCarter Theatre Center in Princeton, N.J., will give a lecture titled "Documentary Theater" on Monday (Dec. 9) at 4 p.m. This event, the second in the Dean's Lecture Series at the Radcliffe Institute for Advanced Study, is co-sponsored by the American Repertory Theatre.
Mann, who received her B.A. from Harvard and her M.F.A. from the University of Minnesota, will discuss her style of playwriting. Often cited for her influence on the field of American documentary theater, Mann will recall her documentary experiments as an undergraduate through subsequent years as a playwright and director, weaving in readings from her plays. She also will reflect on the merits of the genre of documentary theater, including why she initially chose it over more conventional forms and how it continues to challenge her today.
Over the past 12 seasons, Mann has built the McCarter Theatre Center into an outstanding regional theater, for which it earned a Tony Award in 1994. She has increased season ticket sales by more than 80 percent, in part resulting from her vision of theater as a place "where the community comes together … a forum where significant ideas can be batted around."
Mann made her Broadway debut as playwright and director with "Execution of Justice," which garnered her several awards and a Drama Desk nomination. Her first play, "Anulla: An Autobiography," premiered at the renowned Guthrie Theatre in Minneapolis, where she spent time as resident director. And her play "Still Life" earned Mann six Obie Awards, including Distinguished Playwriting and Distinguished Direction. "Having Our Say," Mann's most well-known play, which premiered at the McCarter prior to its successful Broadway run, won her Tony, Outer Critics Circle, and Drama Desk award nominations.
Mann has been the recipient of a Guggenheim Fellowship, a McKnight Fellowship, and an NEA Playwright's Fellowship.
The annual Dean's Lecture Series features leaders in the humanities, arts, and sciences, speaking on social, global, and academic topics.