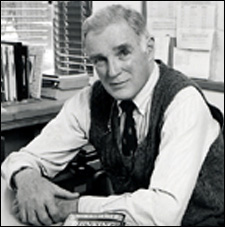 Harold Howe II, U.S. commissioner of education during the Johnson administration and senior lecturer emeritus at the Graduate School of Education (GSE), died Nov. 29 in Hanover, N.H. He was 84.
Howe, who had been known as "Doc" since he was a boy, was born in Hartford, Conn., in 1918. He earned a bachelor's degree from Yale University in 1940 and received a master's degree in history from Columbia University in 1947. He joined the U.S. Navy in 1942 and served as a minesweeper during World War II.
Howe's 50-year career spanned education's broad range, from teacher to the federal government's top education post. He taught history at schools in New York and Massachusetts and served as a high school principal in Ohio and Massachusetts. In 1960 he became superintendent of schools in Scarsdale, N.Y., until 1964.
As U.S. commissioner of education from 1965-68, Howe was charged with distributing federal funding to public schools under the Elementary and Secondary Education Act of 1965, which provided financial support to nearly 27,000 school districts. "I had the job of setting up a system for doing something nobody had ever done before," recalled Howe in 2000. He also directed the federal government's participation in abolishing school segregation under the 1964 Civil Rights Act by providing federal funding to school districts that had proved they did not discriminate on the basis of race.
Upon leaving the U.S. Office of Education, Howe worked briefly in India for the Ford Foundation. He then became vice president at the Ford Foundation from 1971 to 1981. As vice president he created two major programs to support minorities in higher education, which resulted in a substantial increase in African-American and Hispanic Ph.D.'s, and supported projects in school finance reform.
Howe joined the Harvard Graduate School of Education as a senior lecturer in 1982. During his time at the GSE, Howe played an influential role in developing and establishing programs to certify teachers, principals, and superintendents. In 1982 he played a major role in establishing the Principals' Center, which is dedicated to the professional and personal development of school leaders. He retired from the GSE in 1994.
In 2000, the GSE named a student fellowship and chair in his honor. Former Dean Jerome T. Murphy currently holds the chair. Said Murphy, "Few individuals have had a greater impact on the beliefs and practices of American educators than Harold Howe II. Doc has thought deeply about education and the well-being of all children, and his sensible and passionate efforts in support of both have transformed the direction of schools and America's educational values."
Susan Moore Johnson, the Carl H. Pforzheimer Jr. Professor of Teaching and Learning at the GSE, said of her former colleague and friend, "Doc was a hero for so many of us in education. He always stood for kids, especially those schools failed to serve. He kept us honest."
Always a staunch advocate for improving educational opportunities for children from poor families, in 1986 Howe organized and chaired the Commission on Work, Family and Citizenship, which studied the experiences of non-college-bound youth. The commission, with support from the W.T. Grant Foundation, published the report "The Forgotten Half: Pathways to Success for America's Youth," which outlined the needs and problems of this group and recommended a number of solutions.
Howe authored numerous books and articles, including in 1993 "Thinking About Our Kids: An Agenda for American Education," in which he calls for the country to reassess its education goals by recognizing the educational roles and responsibilities that families and communities have. In 1994 he received the Harold W. McGraw Jr. Prize in Education in recognition of his 50 years of service in advancing educational opportunities for all children.
In 1940, Howe married the former Priscilla "Sibby" Lamb, who died in 2001. He is survived by his two daughters, Catherine Short and Merrill Leavitt; his son, Gordon; and five grandchildren.
A memorial service is planned for early 2003. For more information, please call the Graduate School of Education External Relations Office at (617) 495-0740.