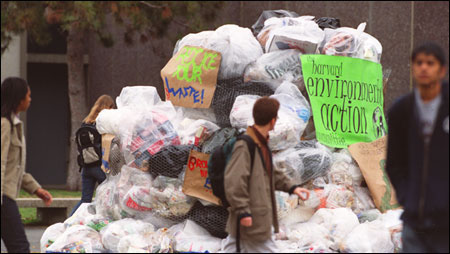 Earlier this week, the Science Center lawn became a dumping ground for about 500 bags of Harvard-generated trash. And if the heaps of soggy newspapers, candy wrappers, used coffee cups, and banana peels were unsightly and a little smelly, that was the point.
The trashing of Harvard was a joint effort of Harvard Recycling, the Faculty of Arts and Sciences Office of Physical Resources, the Green Campus Initiative, and the Environmental Action Committee. With the fifth annual Waste Audit Monday (Nov. 11) and construction of Harvard's own "Mt. Trashmore" Tuesday (Nov. 12), the groups set out to learn what Harvard was tossing into trash cans and to show the University community how much trash it makes.
"This is proof that we're not doing the job we could," said Dave Rennard '03 as he pulled recyclable paper and bottles from a bag of trash during the Waste Audit. Rennard is one of 15 "REPs" – undergraduates paid by the FAS Inter-House Resource Efficiency Program (REP) to serve as resource watchdogs in the houses and freshman dorms – who "audited" 100 randomly selected bags of Harvard trash.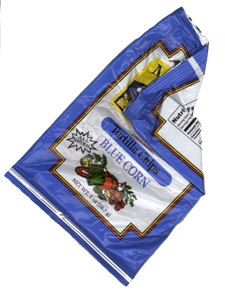 Outfitted in latex gloves and plastic aprons, and heeding stern warnings about respecting privacy and avoiding sharp objects or other hazards, the REPs sorted each bag into recyclable paper, recyclable cans and bottles, reusable items, compostable trash, and honest-to-goodness waste that has nowhere to go but the landfill.
What's in Harvard's trash? Too much that shouldn't be, the audit showed. Forty-one percent of the residential trash sample could have been recycled. That's an improvement from 1998, when recyclable content stood at 51 percent, but it leaves plenty of work for the REPs to do in the houses and dorms.
Beyond recycling, the Waste Audit made archaeologists of the REPs. The "reusable" bins collected silverware and stray plates from dining halls, and a few items – scrap paper folded into an origami swan, a thumbed-through Victoria's Secret catalog – generated debate over what was really reusable.
Trash that couldn't be recycled, reused, or composted was overwhelmingly snack-oriented, with post-Halloween candy wrappers, paper coffee cups, and packaging from microwave meals filling trash bags from student residences.
"People are staying up later and the dining halls are closed," said Rob Gogan, supervisor of waste management for the Facilities Maintenance Department and a member of the REP steering group. Gogan is optimistic that Harvard Dining Services' Brain Breaks – late-night snack offerings instituted widely this year – might reduce students' reliance on in-room, heavily packaged snacks.
Three-quarters of the audited trash came from student residences, where REPs are working to change wasteful behavior.
"The residential system is a phenomenal opportunity to help people develop habits and a consciousness that they'll carry into the rest of their lives," said Rachelle Gould '03, co-captain of the Resource Efficiency Program.
"A lot of times environmental stuff is really abstract," said Winthrop House REP Andy Frank '05, adding that participating in the Waste Audit gave him a much better sense of how to lead his fellow students to recycling enlightenment. "People generally want to recycle," he said, "but at the same time, we're lazy."
While the REPs got a gloves-on, tangible idea of the work ahead of them, Mt. Trashmore took the message to the wider Harvard community.
A pile of 400 bags of trash, the equivalent of what is collected from the Yard residences in one day, was a graphic underscoring of waste.
"It really is valuable for us to be telling the college community that they could be recycling so much more," said Gould as she passed out information to curious passers-by. The fliers, suggesting easy ways to reduce waste, were printed on reused paper.