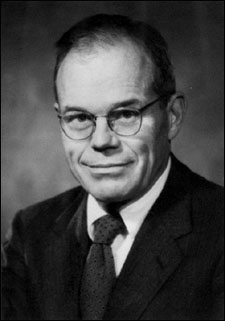 Robert R. Barker '36, an investment executive and former Harvard Overseer whose gifts to the University enabled Harvard to create a new humanities center, died on Nov. 8.
Barker was known for his energetic and long-standing volunteer service to Harvard and for his generosity to the Faculty of Arts and Sciences (FAS). In addition to spending six years on the Board of Overseers and serving as president of that board from 1988-89, he was a director of Harvard Management Company and a founding member of the Committee on University Resources Executive Committee. He spent nearly a decade volunteering for the Harvard College Fund, and also served as president of the Harvard Club of New York, as a member of the FAS New York Major Gifts Committee, and on visiting committees to the University Art Museums, Department of Fine Arts, natural and applied sciences, and honorary degrees.
"The University community is saddened by the loss of such a true friend and devoted alumnus," said President Lawrence H. Summers. "Bob's tireless work in support of Harvard has made an enormous difference to the quality of life and education here, and the Robert R. and Elizabeth S. Barker Center remains a memorial to his love for Harvard. We are grateful for his dedication and thoughtfulness."
Born in Brookline, Barker was raised in Argentina and Switzerland. After graduating magna cum laude from Harvard College, he worked in the statistical and investment departments of J.P. Morgan and Co. in New York City. His employment with J.P. Morgan lasted from 1939 to 1949, but was interrupted by World War II when Barker served in the Navy, in the aviation training division in Washington and on an aircraft carrier in the Pacific Ocean. Barker later joined William A.M. Burden & Co., where he became a partner.
He was later the founder and general partner of Barker Lee and Co., a leading investment company of the 1980s and 1990s, and of Upland Associates LP. Barker was a trustee of several nonprofit organizations, including the J.M.R. Barker Foundation and the American Museum of Natural History.
New York Major Gifts Committee chairman Sidney R. Knafel '52, M.B.A. '54, called Barker a role model for community service. "He was incredibly generous with his time, his effort, and with his friendships. He was an extraordinary man to know because he demonstrated that generosity with a depth and sincerity that is rare among people who lead busy, successful lives," Knafel recalled. "He was always available and his hand was always up, volunteering. He felt that he didn't just go to Harvard for four years – he went for life. And he worked just as hard at it after he left as he did when he was a student."
Barker and his wife, Elizabeth, who died in 1997, made a significant contribution toward the renovation project that transformed the former Freshman Union and other buildings into a center for the humanities, now named the Robert R. and Elizabeth S. Barker Center.
The project transformed the Union's Great Hall, notable for its heavy wood paneling, ornate plaster ceiling, and stone fireplaces, into a more modern and airy space with a multistory atrium, offices, and meeting rooms for faculty and students. On completion, the new design was praised as a successful melding of old and new styles.
The future of Harvard was important to Barker. A note he penned in anticipation of his 25th reunion captures this attitude: "As for Harvard in 25 year retrospect, it ranks higher than ever as one of my great experiences, for all the usual reasons. Good as it was, however, the prospect today seems to me even more exciting, and I have to confess to a twinge of envy as I contemplate the 'goodies' that lie ahead for … the next generation."
Barker was the husband of Frances Salant Barker and the widower of Elizabeth Barker. He was the father of daughters Ann Barker Kolvig and Margaret B. Clark '73, and sons James R. Barker '65, M.B.A.'71, and William Benjamin Barker '69, S.M. '74, Ph.D. '75. He was the grandfather of Margaret Shelly Barker '98.