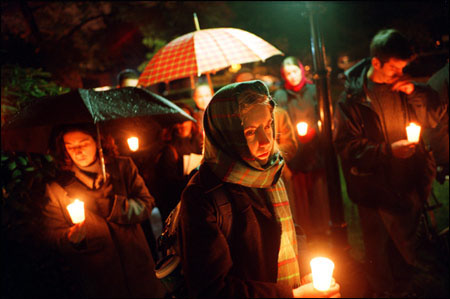 Standing on a damp floor of yellow pine needles in a misty rain, a group of about 20 people were gathered in front of Andover Hall on Monday evening (Nov. 4) to pray for a peaceful community and a peaceful world. As Belva Brown Jordan, assistant dean of student life at the Divinity School, spoke on the candlelit steps of the hall, the small semicircle of listeners swelled to about 40.
The rain and breeze picked up as Jordan's words were followed by prayers. Divinity School student Palwasha Lena Kakar read in Arabic from the Quran, and after that, texts from a variety of religious traditions were read by students and friends.
The by now mantralike words of Dr. Martin Luther King Jr. were rehearsed as well as those of Mohandas Gandhi. A song about the Rwandan massacre was recited, with the wrenching appeal to a silent God – "Where were you?"
After the prayers and an eerily silent liturgical dance, each participant lit his or her candle from a neighbor's, and the group processed in a twinkling line through a dark Harvard Yard to St. John's Chapel.