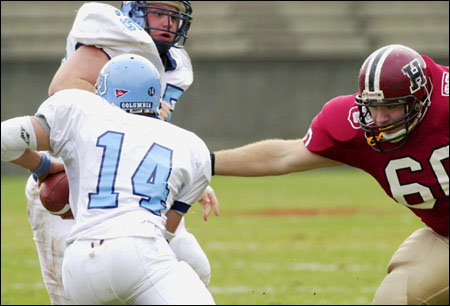 Even as Harvard's picture-pretty offense made for another noteworthy performance against Columbia (1-7, 0-5 Ivy) this past Saturday (Nov. 9) at the stadium, it was the Crimson's less glamorous defensive game that really stole the show – and the 28-7 win – from the cagey Lions.
Up 14-7 late in the first half, Harvard (6-2, 5-0 Ivy) thwarted a fake punt attempt when vigilant cornerback Chris Raftery '04 greeted Lion punter Nick Rudd with a bear hug for a three-yard loss. The key stop setup Harvard's third touchdown – a six-play drive capped by senior quarterback Neil Rose's 8-yard pass to James Harvey '05 – to close out the half. The botched trickery proved to be a huge momentum shifter, as Harvard cruised to its 12th straight league contest, a school record.
Embodied by junior linebacker Dante Balestracci, who recorded a sack and a recovered fumble, along with his 10 tackles, the Crimson's energized clampdown allowed Columbia just 19 first downs (to Harvard's 32), while limiting the visitors to a mere 52 rushing yards. Posting impressive numbers, Raftery, the fake punt spoiler, added eight stops, a forced fumble, and an interception. All told, Harvard's efforts on the other side of the ball translated to two season bests – total yards allowed (280), and points allowed (7).
In another debut, first-year tailback Ryan Tyler racked up 120 yards on 19 carries to reassert Harvard's recently struggling ground game. Tyler became the first Harvard freshman ever to rush for 100 yards in a game, let alone 120. For his efforts, Tyler was named Ivy League Rookie of the Week.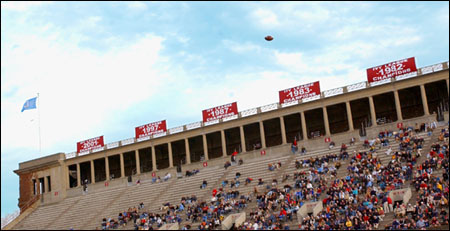 By downing the Lions, Harvard readies itself for an Ivy League showdown against Penn this Saturday. The victor is assured at least a share of the title.
By downing Columbia, Harvard readies itself for an Ivy League showdown against Pennsylvania (7-1, 5-0 Ivy) this Saturday (Nov. 16) at Franklin Field. The only other unbeaten team in the league, the Quakers extracted Princeton from the title race this past weekend, beating the Tigers, 41-13. The victor of Saturday's contest (kickoff at 12:30 p.m.) is assured at least a share of the title.
Last year, Harvard won a nail-biter at home, 28-21.
Senior tailback Nick Palazzo, who left the game against the Lions upon reinjuring his shoulder, is set to return to action for the Crimson against the defensive-minded Quakers.