Though much of the inequity in world health stems from differences in wealth – both within and between countries – several experts say that health disparities could be reduced through wise government policies even as income disparities persist.
Despite a continued gap between rich and poor, much progress was made in the 20th century fighting disease, according to Director-General of the World Health Organization Gro Harlem Brundtland. Building on those gains, she predicted that major improvements in global health are possible by 2010.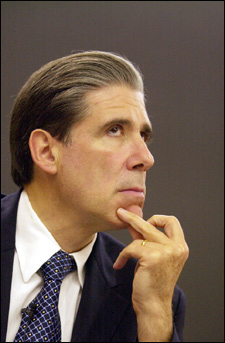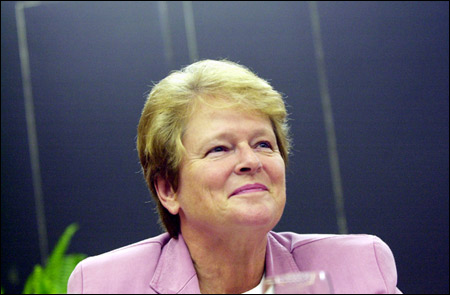 "With vision, commitment and successful leadership, the world could end the first decade of the 21st century with notable accomplishments," Brundtland said.
That health improvements can come despite the wealth gap is good news for those working to improve health conditions worldwide because, according to Christopher Jencks, Malcolm Wiener Professor of Social Policy at the Kennedy School of Government, there's little chance that income disparities will narrow significantly in the near future.
Though income disparities can be reduced relatively simply – through government taxation policies, for example – there seems little political will for such radical change, Jencks said. That is true both in a nation like the United States, where income disparities have been growing greater in recent decades, and worldwide, where wealthier countries would have to send some of their riches to the developing world to effect change.
"Those of us who care about health should keep worrying about inequality," Jencks said. "We should use our skills to figure out ways to improve health in a world where inequality is persistent and extreme."
Jencks and Brundtland were among four speakers Friday (Sept. 27) at a School of Public Health (SHP) symposium on disparities in health around the world. The symposium, "Health Disparities: A Global Dilemma," was held in honor of former School of Public Health Deans Harvey V. Fineberg, who also served as Harvard provost, and Howard H. Hiatt.
The program was introduced by Provost Steven E. Hyman, who thanked Fineberg and Hiatt for their leadership. Current SPH Dean Barry Bloom moderated the symposium, introducing individual speakers and fielding questions from the audience. Bloom said the symposium was "extraordinary," and quoted T.S. Eliot in response to those who think improving global health is a lost cause:
"Our failure will be the predecessor of our successors' victories, though they will be temporary. We fight for lost causes not in the expectation that anything will triumph, but rather to keep something alive," Bloom said, then added, "In our business, keeping something alive means keeping millions and millions of people alive. And keeping alive means keeping the spirit and commitment to humane values of Harvey and Howard alive in this place."
In addition to Jencks and Brundtland were presentations by Lisa F. Berkman, Thomas D. Cabot Professor of Public Policy at the School of Public Health, and Mexican Minister of Health Julio Frenk.
Jencks set the stage, showing the link between wealth and health. Berkman followed up, highlighting health trends and saying that policies have to target populations, not individuals, to be broadly effective. Asking why an individual has high blood pressure, for example, is a very different question from asking why one nation's population may have higher blood pressure than another's. The health responses would be different in each case as well.
Berkman cited health trends such as the rise in childhood obesity, the higher cholesterol levels in some nations, the shift in tobacco-related cancer deaths from wealthier people to poorer as the link between smoking and cancer became clearer, and the continued life expectancy gap between white and black in this country.
She talked about various phenomena that illustrate some of the less obvious connections between wealth and health, such as neighborhoods as predictors of cardiovascular disease, and social isolation as a risk factor, especially for the poor and elderly. In responding to these trends, Berkman said, public health officials have to look at themselves not as lone fighters, but as stewards, linking and informing efforts of officials in education, housing, and many other fields.
"It's not our role to do it all, it's our role to partner," Berkman said.
Partnering can be effective, according to Frenk and Bruntland who both made the case that informed government policies can close the gap in health disparities, even as the income gap between rich and poor persists.
Frenk presented his experience in Mexico, where efforts are under way to improve the health of the half of the population without insurance. Using a policy framework established by the World Health Organization, Mexico crafted a national health policy that provides nutritional supplementation as well as care for pregnant women and children up to age 2.
"As minister of health, I have very few tools at my disposal to reduce income inequality, but I can affect health inequality," Frenk said. "Even in the face of large health disparities, there is room for improving health quality."
Though health disparities persist in the world, they are not static, according to Brundtland. Since 1990, the spread of AIDS has made it a major global health threat, representing 6.1 percent of the world's "disease burden." In Africa, AIDS alone represents 22 percent of that continent's disease burden, Brundtland said.
As nations develop, their populations tend to become more sedentary and pick up unhealthy habits, such as smoking and eating an unhealthy diet. Lung cancer killed 1.2 million people in 2000, compared with 950,000 in 1990, Brundtland said. Incidences of heart disease and stroke are also rising. Those factors partly offset the good news internationally – that effective vaccination programs have pushed measles out of the top 10 of diseases and that disease related to diarrhea is down significantly also.
Improvements in health care depend on political will, Brundtland said. Government policies can improve things like unsafe drinking water and promote safe sex.
"The ultimate responsibility for a country's health system's performance rests with the government, but the impact [of a poor health system] lies disproportionately on the poor," Brundtland said.