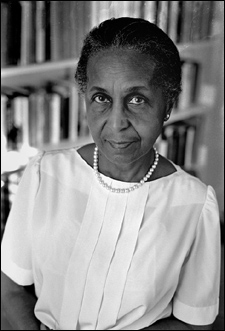 Eileen Jackson Southern, an authority on Renaissance and African-American music and the first black female professor to be given tenure at Harvard, died Sunday (Oct. 13) in Port Charlotte, Fla. She was 82. Born in Minneapolis, Minn., Southern studied piano and played her first concert in Chicago at the age of 7. Her parents encouraged the musical aspirations of their three daughters and often provided accommodations to traveling black musicians. Louis Armstrong once spent the night at her father's house.
Southern attended public schools in Chicago and earned a B.A. from the University of Chicago in 1940 and an M.A. the following year. She earned a Ph.D. in musicology from New York University in 1961 with a dissertation on Renaissance music.
She taught at Prairie View University in Texas, Southern University, Brooklyn College, and York College of the City University of New York. She came to Harvard in 1974 as a lecturer and became a full professor in 1976 with a dual appointment in Afro-American studies and music. From 1975 to 1979 she chaired the Department of Afro-American Studies. She retired in 1987.
Kay Shelemay, the G. Gordon Watts Professor of Music, commented, "She was an enormously distinguished scholar of Renaissance and African-American music and their history. She was a great lady and a great scholar who made an important contribution to the field. "
While teaching at York College in 1968, Southern took part in discussions about introducing a program in black studies including courses in black music. A colleague asked, "Black music? Besides jazz, what is there?" Southern later said that that remark was partly responsible for prompting her to write "The Music of Black Americans, a History" (1970), which discusses not only jazz, blues, and spirituals, but the full gamut of musical genres to which African Americans have contributed over the past 450 years.
Among the other works she has written, edited, or co-edited are "The Buxheim Organ Book" (1963), "Readings in Black American Music" (1971), "Anonymous Pieces in the El Escorial Manuscript" (1981), and "African American Traditions in Song, Sermon, Tale and Dance 1600s-1920" (1990).
In 1973, with her husband Joseph Southern, she established Black Perspectives in Music, the first musicological journal on the study of black music.
A recipient of the 2000 Lifetime Achievement Award from the Society of American Music, she also received the Outstanding Contributor to Music Award from the National Association of Negro Musicians (1971), the Deems Taylor Award from ASCAP (1973), and the Distinguished Achievement Award from the National Black Music Caucus (1986). In 2001, she was named by President George W. Bush as a National Humanities Medalist.
She leaves her husband, Joseph, a retired professor of business administration; a son, Edward Southern; a daughter, April Myra Southern; and a sister, Stella Hall.