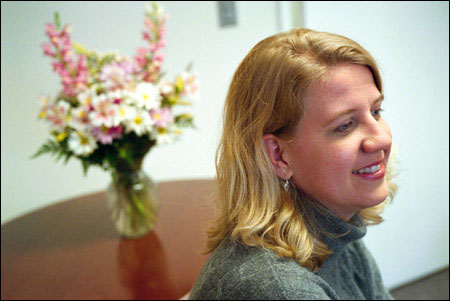 Susan B. Marine has been named Harvard College's first coordinator of Sexual Assault Prevention Services, a position jointly created by the College and the Office of the Provost. Marine, who brings impressive experience from the private and public sectors, will oversee all student education related to sexual assault, its prevention, and resources for victims of sexual violence.
"Susan Marine is an extremely talented individual who has worked for the past decade on the issue of sexual violence, with most of that time on college campuses," said Harry R. Lewis, dean of the College. "She is highly knowledgeable about practices at other schools, innovative programs, and the latest research in the field and has worked closely with Harvard in the past. We are very fortunate to have attracted somebody with her background and abilities."
Marine, who began work Oct. 21, joins wider University efforts to ensure that students have access to the most effective range of educational programs, preventive measures, and support services related to sexual violence on campus.
"Susan's work will be tremendously important to our students," said Steven E. Hyman, provost of the University. "All undergraduates can benefit from her efforts – especially in the areas of education and prevention.
"But students who have experienced violence are in particular need. It is the University's obligation to support and care for all students who have been victims of sexual assault. Susan will help us to ensure that students receive the medical counseling and academic support they require," said Hyman.
Marine will work closely with the Committee to Address Sexual Assault at Harvard (CASAH, http://www.fas.harvard.edu/~casah/), a group of faculty, staff, and students currently engaged in a thorough examination of resources related to sexual violence at Harvard. Chaired by Jennifer Leaning, professor of international health and assistant professor of medicine, CASAH has, since its first meeting this September, strenuously pursued multiple avenues for learning as much as possible about students' concerns, available resources, and potential recommendations for the future. (See sidebar for more information on CASAH's efforts.)
"Susan comes to Harvard at a time when we are closely looking at best ways to educate students about issues of sexual violence, gender relations, and social interactions," said Leaning. "Her insights and experience are vital to us as we design programs of education, prevention, and support."
As part of Harvard's ongoing efforts in these areas, Marine's goals for this year are to help assess the depth and breadth of prevention/education programs at the College, develop a plan for integrating and streamlining education on this issue, and to put into place some structures for sustainable educational endeavors. Through innovative programming, she hopes to increase awareness of sexual assault and build upon existing alcohol education. She will also organize the Safe Community program for all first-year students, and will help train the freshman proctors and house tutors who serve as Sexual Assault/Sexual Harassment (SASH) advisers to students in need.
"I have boundless energy for working alongside college students to raise awareness about, and ideally prevent, sexual assault and abuse," said Marine. "I am committed to developing programs and approaches which are grounded in sound research, and that show evidence of attitudinal and behavioral change. Developing this program affords me the opportunity to be creative, to use my extensive knowledge and experience in the service of helping Harvard to become a model institution with respect to violence prevention. It truly feels like a wonderful opportunity."
Marine developed her expertise at such institutions as Colorado College and Dartmouth College, following a bachelor's degree in philosophy from Transylvania University in 1992, and a master's degree in college student personnel from Bowling Green State University in 1994.
At Colorado College, Marine served for two years as the coordinator of educational programming related to alcohol and other drug abuse prevention; she also revised the college's sexual assault and alcohol policies, trained counselors to staff a 24-hour crisis line, and served as director of a residence hall. From Colorado, Marine moved to Dartmouth College, where she deepened her experience with sensitive issues as the coordinator of the sexual abuse awareness program. For four years, Marine developed a range of outreach efforts – publications, workshops, educational presentations – and trained and advised student counselors and educators around issues of sexual abuse.
In 2000, Marine was hired by the Cambridge Department of Public Health. As the coordinator of a citywide violence prevention program, Marine developed programs targeting youths, represented Cambridge at regional, national, and international symposia dedicated to violence prevention, and coordinated the city's Domestic Violence Free Zone initiative. Since 2001, Marine has also supervised medical advocates for rape survivors at the Boston Area Rape Crisis Center.
"As an educator, I want students to have the best possible experience they can have in their four years at Harvard," said Marine. "In order for that to be possible, I believe students need to be aware of the problem of sexual assault and armed with as much information as possible about how to keep themselves, and their friends, safe."
Susan Marine can be contacted at susan_marine@harvard.edu, (617) 384-9081.