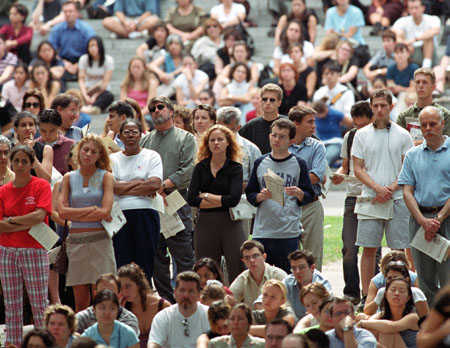 More than 10,000 members of the Harvard University community gathered in Tercentenary Theatre at noon Wednesday (Sept. 11) to mark the one-year anniversary of the Sept. 11 attacks. With words, music, and prayer, students, religious leaders, and President Lawrence H. Summers honored the day's tragic events and offered messages of peace and hope.
"Together, on this somber day, in this green and tranquil yard, we think back with sadness, we draw strength from each other, we look ahead with hope," said Summers from the steps of the Memorial Church.
Summers called for moral clarity in facing a world that was forever changed a year ago.
"We may debate the nature of truth, but there are truths beyond debate," he said. "Pursuit of that truth is our particular objective."
As a university community, Summers said, Harvard should draw upon its intellectual resources to advance the ideal of freedom and to work toward understanding.
"Let our moral clarity be translated not into reflexive revenge, but into determination to prevail against terror and to build a better world," he said. "Let our calling be to use our knowledge to build a world of deeper understanding, greater justice, and heightened respect for human life."
Summers' remarks followed calls to worship and readings from a wide range of faiths, including Christian, Jewish, Muslim, Zoroastrian, Buddhist, and Bahá'í. They were broadly hopeful, offering thoughts and prayers on peace and divine love.
"The way that we responded [to the events of Sept. 11] brought out the best in human nature and that filled us with courage and strength. It also gave us hope for the future," said Swami Tyagananda, president of the United Ministry at Harvard. "I propose that we observe this day every year as a day of remembrance and hope."
The Choral Fellows of the University Choir performed "Canticle: Mosaic in Remembrance and Hope," composed by Carson P. Cooman '04 and commissioned by the United Ministry for this occasion. The work wove together words from writings of religious traditions on themes of remembrance, hope, and peace. As the fellows' voices swelled to a crescendo, a gust of wind punctuated the work's powerful ending.
The Harvard students, faculty members, staff, and friends who paused from their activities to attend the service filled Tercentenary Theatre to the steps of Widener Library.
"I didn't think it was something that I should miss," said Quinn Eddins, a first-year graduate student in Middle Eastern Studies who took time out from orientation activities to listen to the prayers and speeches. One year ago, he said, he was applying to Harvard. Sept. 11 "confirmed and reaffirmed my interest in Middle Eastern Studies. It's a timely subject to be studying."
"I remember … such a strong sense of being a New Yorker, and I still feel that," said Ashley Ma '05, tugging at her "I Love NY" T-shirt while waiting to plant a commemorative daffodil bulb outside Appleton Chapel.
Ma, whose family lives in Manhattan, appreciated the service.
"I'm glad that this is what the University chose to celebrate. It's a good echo of last year," she said, adding, "I think it's going to be a long day for a lot of people."
Other campus observances of Sept. 11 included a peace concert of poetry, music, and political commentary hosted by Christopher Lydon at Paine Hall; a Peace and Remembrance Vigil hosted by the Harvard Initiative for Peace and Justice outside the Science Center; and a public candlelight vigil on the Lars Anderson and Harvard bridges.