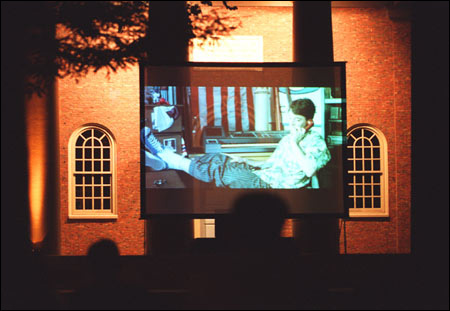 At the first-ever 'It's Movie Time at Harvard,' Matthew Broderick as Ferris Bueller wheels and deals on screen as 3,000 members and friends of the Harvard community look on.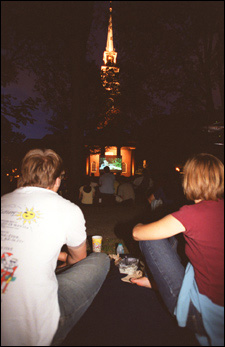 More than 3,000 members, family, and friends of the Harvard community gathered in a festive mood in Tercentenary Theatre on Sunday evening (Sept. 22) for President Lawrence H. Summers' "It's Movie Time at Harvard," a free screening of the high school-rebel classic comedy "Ferris Bueller's Day Off."
"It's a great use of this space," said Parker Conrad '02-'03. "It is a theater, after all," echoed Matthew Lincoln '03. Eileen McNeely, an instructor at the School of Public Health, brought her children, Taylor and Tatum, to the event. "I grew up with drive-ins," she said. "This is the kids' first experience of an outdoor film."
While midfilm rain showers sent many moviegoers scurrying for cover, nearly half of the crowd – equipped with everything from blankets to beanbag chairs – remained to the end, enjoying Bueller's escapades along with free popcorn and soda.