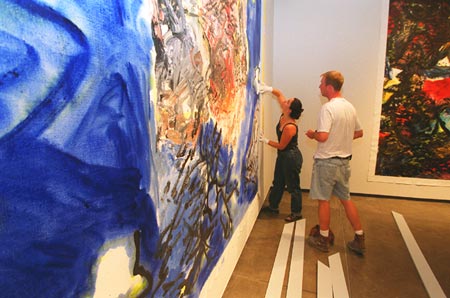 Once when my daughter was 7 or 8, I was listening to a jazz record, and I asked her what she thought of it.
"I don't like jazz," she said. "It's like scribbling."
I thought briefly about shifting into lecture mode in the hope of expanding her musical horizons, but thought better of it. It was only later that I realized how brilliant her remark was.
Jazz is like scribbling, a kind of free-form outpouring of musical ideas confined only by the tune's harmonic structure, or, in some cases, only by the musician's imagination. It is scribbling as exploration, scribbling from which form emerges – the familiar outline of a melody peeking briefly through the improvisatory swirl, the song's chord changes building their reassuring foundation as the soloist floats and swoops among the rafters.
Jazz is a gestural language, a form of musical expression that gives free rein to the musician's thoughts and feelings, allowing his or her whole being to determine the ultimate shape of the music, not just its interpretation. It has this quality in common with much contemporary art, abstract expressionism especially, an art form which is also gestural, and which, like jazz, is the tangible record of an artist's journey through a related group of themes or ideas.
Just how close jazz and abstract painting can be is evident in a new exhibition in the Carpenter Center's Sert Gallery. "Duo: Oliver Jackson/Marty Ehrlich" is a multimedia experience consisting of six large canvases by Jackson in association with 64 minutes of recorded music by Ehrlich.
Jackson, based in Oakland, Calif., is a painter, printmaker, and sculptor whose work is represented in major museums and who has been professor of art at California State University in Sacramento since 1971. Deeply involved with jazz and African culture, his art is also firmly rooted in the traditions of American and European modernism.
Ehrlich, a resident of New York City, was trained at the New England Conservatory of Music and has recorded as a leader of several groups, including the Dark Woods Ensemble and the Traveler's Tale Quartet.
The two artists collaborated over a 10-week period in the spring of 2000 when both were in residence in adjoining studios near the Harvard campus. The Fogg Art Museum sponsored Jackson's residency, while Ehrlich was the Office for the Arts' 1999-2000 Peter Ivers Visiting Artist.
The collaborative work is dedicated to the late jazz saxophonist and composer Julius Hemphill (1938-1995), a friend and colleague of both artists, and grew out of discussions and shared experiences dating back to all three artists' formative years in St. Louis.
It was in the late 1960s that Jackson became a friend and collaborator of Hemphill, a founder and guiding spirit of an inner-city arts organization known as the Black Artists Group (BAG), comprising musicians, dancers, actors, painters, and writers. Ehrlich, then a teenager, took classes with BAG members and was inspired to pursue a career in music. Years later, when Ehrlich was a saxophonist in Hemphill's ensemble, he met Jackson, and the two began a long artistic dialogue.
For Jackson, the guiding principle of the project was to create a sense of place in which painting and music would work together to intensify the visitor's experience, a synergistic process he compares with older sacred rituals.
"People are more profoundly moved by aesthetic experience when it's part of the making of place than when it is in isolation," he said.
Jackson's monumental canvases, collectively titled "A Garden," visually dominate the small gallery space. Their dimensions vary slightly, although all are nearly square, a format that further emphasizes their link with music by suggesting the shape of a record album jacket, and in fact Jackson provided the artwork for several of Hemphill's recordings.
In each canvas there is some suggestion of human figures floating in indeterminate space, a thematic element that is typical of Jackson's work, but beyond that, the canvases represent a full spectrum of moods, densities, color schemes, and brushwork.
In one, bright colors are overpainted with a thick network of black strokes. In another, a mass of earth tones intrudes into a watery field of blue like a peninsula seen from space. In a third, a melee of orange brush strokes suggesting human forms churns against a background of brilliant white.
Meanwhile, Ehrlich's composition, "The Long View," seems not so much to comment on the paintings as to provide a parallel experience from a shared aesthetic perspective. The fluid, varied nature of Ehrlich's composition, incorporating elements of New Orleans funeral dirges, '60s free jazz, and European modernism, provides a suggestive complement to Jackson's paintings in which fragmentary figures appear and disappear in clouds and layerings of color.
Both paintings and music employ the principle of contrast, playing with varied textures, colors, densities, opposing light to heavy, hard to soft, slow to fast. Running on parallel tracks, each of these complementary art forms enhances the capacity of the viewer/listener to become engrossed in the other.
According to Harry Cooper, associate curator of modern art at the Fogg Art Museum and organizer of the exhibition, as visitors take in Jackson's paintings and Ehrlich's music, "and consider the changing relationship between the two, they will experience a variety of modes of attention, from sharply focused looking and listening to free-floating contemplation, and many states in between."
They may also discover that a scibble, whether aural or visual, can be the most personal, the most expressive, and the most revealing of gestures.
"Duo: Oliver Jackson/Marty Ehrlich" will remain at the Sert Gallery through Jan. 19, 2003.