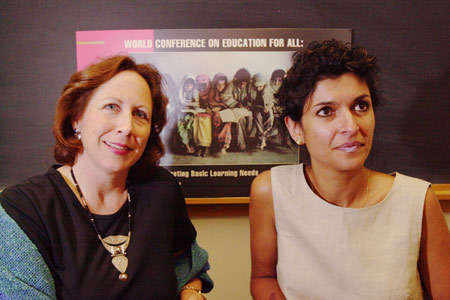 Even before the World Trade Center towers fell, respected news sources and e-mail chain letters alike decried the state of education for girls under Afghanistan's Taliban regime. For some, the news forged a link: Islam equals no education for women and girls.
Graduate School of Education (GSE) researchers Assistant Professor Suzanne Grant Lewis, director of the International Education Policy Program, and Mitra Shavarini '01 Ed.D. knew such a simplified equation was unjust. To learn more about how girls are being educated in Islamic countries, and to help others understand those complexities, they launched the Mo'alem Project in April.
Funded by the Harvard Center on Gender and Education, the Mo'alem Project takes its name from the Farsi word for "teacher" – the heart and soul of the project. The research will engage teachers of girls in Afghanistan, Pakistan, and Iran in dialogues within each country and across national borders.
"We're educators and we believe in the importance of hearing from educators," said Grant Lewis. "The study is to try to capture the voices of the educators of girls in these three countries and to promote a dialogue. Our role really is as facilitator, convener, and listener."
Girls' education in post-Taliban Afghanistan sparked the researchers' interest, but they broadened their study to include the rebuilding nation's neighbors for comparison and cross-cultural learning.
Iran has made great educational strides since the Islamic revolution of 1979, said Shavarini, resulting in a 68 percent literacy rate for females and a 97 percent enrollment rate for all students up to grade five. Both Iran and Pakistan have struggled – and have had qualified success – with the same roadblocks to education Afghanistan faces: remote locations, a multiethnic population, and limited funds.
"It is not Islam that is preventing women from getting educated," Shavarini, who is an Iranian American, stressed.
"We believe that … very hopeful, very promising things were going on in this part of the world," Grant Lewis added. She and Shavarini thought "it would be valuable, post-Sept. 11, particularly, to try to highlight what those experiences are," said Grant Lewis.
A political minefield
The road to research, however, is strewn with political land mines. Grant Lewis and Shavarini are hard-pressed to think of three countries in which it would be more politically challenging for a U.S. institution to conduct research right now. With her Iranian passport, Shavarini has traveled to Iran to gather support for the project and for Grant Lewis, who as an American must lobby for a special visa.
Slowly building alliances, Grant Lewis and Shavarini are currently working to select the educators who will share their stories. Even with the help of local intermediaries – a network of GSE alumni in Pakistan, UNICEF in Iran, and CARE in Afghanistan, as well as politicians, journalists, and filmmakers – the process has been laborious.
In October, the Mo'alem Project will gather up to 10 educators in each country for focus group-style discussions moderated by a local facilitator working with Grant Lewis and Shavarini. Logistics will daunt them along the way: For instance, there are no direct flights to Afghanistan from the United States, so the researchers must fly to Iran then take the once-weekly flight into Afghanistan – where they'll have to remain for a week until there is a flight back to Iran.
Once the educators are selected, what they say – and to whom – is also charged.
"You always have to have a filter," said Shavarini, explaining that she was in the process of negotiating mahrams, the conditions under which Islamic women are considered to be religiously "correct." What mahram means changes with the venue. In Iran, proper dress renders the female educators' mahram, while in Afghanistan, they will need to be accompanied by male guardians.
In the third phase of the project, five educators from each country will meet in a fourth country, likely Turkey, to share information across national borders.
While those discussions may lead to action plans, for which the Center for Gender and Education can provide seed money, action is not the goal of the project.
"It's quite small-scale and exploratory, but that's because we feel that's what's needed," said Grant Lewis. "It's enough to try to give voice to the educators of girls and try to promote this dialogue."
Given the political complexities and instability of the region, said Shavarini, "if even they take one idea, or the hope of cross-national dialogue as a hope in the future, we've achieved our goal."
Bringing it all back home
By the end of next summer, as the pilot project closes, the researchers plan to publish review articles on girls' education in each country as well as their findings and, they hope, give first-person accounts of the education of girls in those nations.
"We're very keen to include writings from scholars and practitioners from those countries, which are often difficult to access from here," said Grant Lewis.
And while generating dialogue among the educators of girls is certainly a key goal of the Mo'alem Project, so is enlightening the folks back home. Throughout the coming year, the Mo'alem Project will partner with other Harvard schools and research centers to sponsor film screenings and discussions.
"We're particularly interested in helping people here better understand the context," said Grant Lewis. "We were not so happy with the post-9/11 coverage about girls and women and education, which tended to be really condemning of Islam. We think there are a lot of positive accomplishments that have been made in that part of the world. We'd like to try to bring them to the fore."