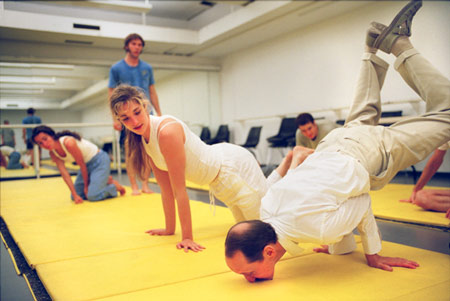 Why is Amelia Nickles scampering about on all fours? Because she's a dog, of course. Not just any dog, but a lean brown greyhound that loves to lean against her mistress' knee and rest its head on her lap.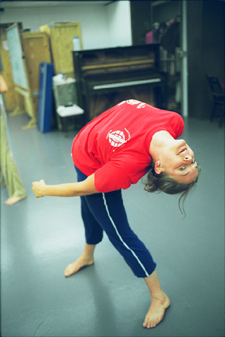 The dog Nickles is inhabiting appears in a painting by 19th century British artist John Everett Millais. The painting, titled "Isabella," is based on a narrative poem by John Keats, which was itself inspired by a tale from Boccaccio's "Decameron." Now the painting serves to inspire a class of acting students at the American Repertory Theatre's (A.R.T.) Institute for Advanced Theatre Training.
The painting shows a group of medieval Florentines sitting at a dinner table. Lorenzo, Isabella's lover, gazes longingly at her as he offers her a plate of fruit. The greyhound, the physical embodiment of Lorenzo's devotion, nuzzles against Isabella, while her brother, a crass-looking fellow on the other side of the table, extends his leg horizontally to poke the dog with his foot.
A group of students in Roman Kozak's acting class have been working with this painting for some time now, looking hard at the characters, discussing their identities, histories, relationships, and trying to understand their thoughts and feelings.
Now they are performing what Kozak, a teacher at the Moscow Art Theatre School and director of the Pushkin Theatre, calls "études," short, improvised scenes that show something about the character's inner life.
Nickles' inner life is all about boredom and longing. Alone, she pants, drinks from her water bowl, sniffs her bed, then half-heartedly paws her stuffed toy and picks it up in her mouth.
But wait! There's a noise outside, though only a dog's sensitive hearing could detect it. She runs to the window, barks, paws at the glass. Isabella and Lorenzo walk in through the door, talking together. Nickles bounds to them and sniffs their feet, then rolls appealingly on her back. They ignore her, although Isabella does give her head a pat. Soon they are gone, and Nickles is alone again – bored, forlorn, incomplete. But such is the life of a dog.
What is remarkable about Nickles' performance is how much she has identified with a dog's consciousness. As she pants, tongue out, looking up at her mistress, her face expresses nothing but abject devotion. She isn't trying to be cute or funny. To use an acting term, she has totally committed to her character.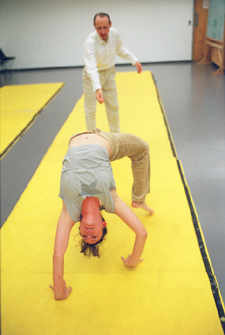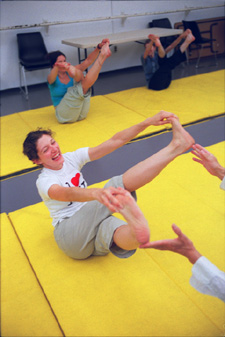 Left:Laura Nordin clearly enjoys attempting to become a human pretzel – with the help of master teacher Andrei Droznin. Right: Under the watchful eye of maestro Droznin, Molly Ward performs a demanding 'U-turn.'
After the students have performed their scenes, Kozak gathers them into a circle and speaks to them through a translator.
"I think this assignment has been very interesting. I like that you delve into the physical world of the character. It helps you to exist as a different person."
Kozak is one of four Russian instructors teaching here this summer as part of a collaboration between the Moscow Art Theatre School and the A.R.T. that begun in 1998. The students' exposure to Russian methods will continue in March 2003, when the class travels to Moscow for three months of further training.
As a product of the Russian theatrical tradition, Kozak bases his teaching method on techniques devised by famed acting teacher and theorist Konstantin Stanislavsky (1863-1938), the Moscow Art Theatre's founder. Stanislavsky's influence has been worldwide, but by getting their training direct from the source, the students are receiving a more authentic and complete version of the master's system.
"Stanislavsky in America has been vastly misinterpreted," says Institute director Scott Zigler. "What the Russians bring is a much purer version of Stanislavsky's mature system than anything available here."
---
'I think this assignment has been very interesting. I like that you delve into the physical world of the character. It helps you to exist as a different person.'
Roman Kozak, instructor
---
The Russian teachers also bring an attitude toward acting and the theater that is very different from the American tendency to either marginalize actors or to treat them as demigods.
"They have a degree of respect for the craft of acting that is really unheard of in America," says Zigler. "Russians revere their actors. The theater is an intrinsic part of culture. Even with the economic situation of Russia today, people still go to the theater. Experiencing that attitude really changes our students. It helps them feel they're doing something important and meaningful to society."
This Russian reverence for the theater has impressed the students as well.
Student Jonathan Broke, who, like Nickles, started the two-year program this summer, says that working with the Russians has been "absolutely wonderful. There's something absolutely modest and truthful about them, not oriented toward mainstream success, but rather toward artistic truth."
Nickles is impressed with the teachers' humanity.
"I find the Russians are more willing to share their souls with us, and I think there's a respect of the teacher for the student and the student for the teacher that comes out of that vulnerability."
That mutual respect is in evidence in Andrei Droznin's movement class. How else to explain why a group of people would happily twist themselves into a series of bizarre postures and hurl themselves across the floor in imitation of a crocodile, a seal, a frog, and what Droznin calls "a Russian torpedo," which involves lying on your back and propelling yourself without the use of arms or legs?
Next come coordination exercises. The class struggles to make their limbs move independently of one another, in obedience to Droznin's instructions.
"Never do it and hope that it will happen," Droznin advises. "Talk to your body! Try to explain to it what this crazy Russian wants it to do."
Later, he explains the purpose of the class.
"This is not to prepare them for stage tricks, but to make connection between body and mind, body and soul, so when they feel something, they will immediately express themselves."
The movement class has another function, as acting student Jodi Dick has discovered.
"As human beings, we walk around very uncentered. The class has a lot to do with figuring out where our center is, so when we play a character, we have a place to jump off from."
The benefits of the collaboration are not entirely one-sided. Anatoly Smeliansky, head of the Moscow Art Theatre School and a leading Russian theater writer, scholar, and critic, says that the collaboration with the A.R.T. has brought the Russians unique advantages as well.
Smeliansky, who spearheaded the collaboration between the two acting schools, says that working with Americans has broadened the Russians' cultural perspective.
"You cannot just teach. The real process is teaching and getting back. When you teach American students, their questions are coming from an entirely different background. You say, 'Oh, my God! I never thought about Chekhov in that way!' It is an incredible experience to look at your own culture from another point of view."
The collaboration also brings to light the advantages of the Russian system. In Russia, theater is subsidized, Smeliansky points out. Actors who are talented and who make it into the professional ranks are assured of steady work, a very different life from that of struggling American actors, who often spend more time waiting tables or working as office temps than they do onstage.
Smeliansky feels compassion for their plight, but he believes that he and his fellow Russians have something to offer them as well.
"I know the life of an actor here is very difficult. But I think we can help them have faith in themselves as artists."