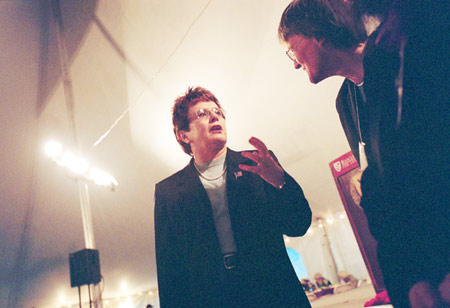 "Cool."
Tennis legend and activist Billie Jean King's opening remark at the Radcliffe Association lunch Friday (June 7) set the tone for a speech as folksy as it was empowering, encouraging the audience of Radcliffe alumnae to stand up for their beliefs.
"We can never be silent in the face of inequities," King said. "We must state our principles and speak out against wrong."
King, who received the 2002 Radcliffe Medal, delivered a laid-back but feisty account of her career in tennis and women's rights, drawing cheers, gasps, and hissing disapproval for the injustices she described.
Introducing King, Radcliffe Association President Raine Figueroa '84 chronicled her athletic accomplishments: King won a record 20 Wimbledon titles and was ranked No. 1 in the world in singles five times between 1966 and 1972. She was the first woman to win more than $100,000 in any sport, and in 1974 she became the first woman to coach a professional team – the Philadelphia Freedoms – that included both men and women.
Taking the podium in a pinstriped suit and high-tech running shoes, King focused more on her off-court wins for women's equality. She lauded Radcliffe's mission as mirroring her own: "To have equal opportunity for boys and girls, men and women," she said. "It's such a no-brainer, I don't understand why people don't get it!"
She related the life-changing day when her fifth-grade classmate in Long Beach, Calif., invited her to play tennis.
"What's tennis?" was King's response.
By the end of her first lesson, however, she was hooked. "I found out what I wanted to do with my life," she said.
As she mastered the sport, with a $4 tennis racquet she selected because it was purple, she prepared for conquests greater than her opponents.
"If I'm ever good enough, I'm going to change the world," she recalled saying. A few years later, she said, "I figured out that if I wasn't No. 1 in the world, nobody would listen to me."
Wimbledon win: A gift certificate
On her way to becoming the best in the world, King butted heads with the harsh realities of being a woman in a sport dominated by men – men who set the prize money and determined when and where women could play.
"The first time I won Wimbledon, I got a 45-pound gift voucher," said King, who begged the officials to exchange it for cash so she could pay her travel expenses.
Frustrated by the male players and promoters who assumed no one wanted to watch women play tennis, King and eight other women – The Original Nine – broke away from the tennis establishment, accepted $1 contracts from tennis promoter Gladys Heldman, and launched the Virginia Slims Tour and the Women's Tennis Association.
"It was a tough time, a very lonely time," said King, who named her eight co-conspirators to applause. "All we were doing was protesting inequality and saying that we would rather play on our own. We wanted to be respected – and organizing our own tour, we finally would have control of our destiny."
The Women's Tennis Association is now the world's most successful women's international professional sports organization, she said, with 66 events and a total purse of $51.7 million.
King hailed Title IX, the 30-year-old federal law that prohibits gender discrimination in any education program or activity – including athletics – that receives federal funds, as "by far the most important piece of legislation in the 20th century for women's sports."
Participation in high school sports by girls has increased a staggering 847 percent since Title IX became law, she said.
"But we still have a long way to go," said King: Eighty percent of all schools and colleges are estimated to be out of compliance with its mandates.
The Battle of the Sexes continues
One year after Title IX was passed, King challenged Bobby Riggs to the match she is best known for, the Battle of the Sexes. King, of course, triumphed.
"I wanted to change the hearts and minds of people to match the legislation of Title IX," she said.
King rallied the Radcliffe audience to share her activism. "We must make sure that we work every single day to make inequities a thing of the past," she said. "Personal responsibility is the key: That every man and woman who believes in gender equality speaks up and acts to do something that will result in positive change."
King's speech was the centerpiece of Radcliffe Day, which included a symposium of winners of the Alumnae Recognition Award, the Graduate Society Medals, and the Jane Rainie Opel '50 Young Alumna Award. National Public Radio correspondent Anne Garrels '72; novelist Gish Jen '77, Bunting '87, Radcliffe Institute '02; feminist legal scholar Clare Dalton LL.M. '73, Bunting '88; bioterrorism expert Margaret Hamburg '77, M.D. '83; Leila Ahmed Bunting '86, Harvard professor of women's studies in religion; and athlete Cara Dunne-Yates '92 discussed "Making a Difference in a Challenging World."
Also at the luncheon, Radcliffe Institute for Advanced Study Dean Drew Gilpin Faust announced that alumnae and friends have raised $1.5 million that will be matched by Harvard to create a $3 million endowed Radcliffe Alumnae Professorship. This group exceeded its goal by approximately $250,000, which will form the core of a fund to establish the Radcliffe Alumnae Junior Faculty Fellowship.