From the front lines of Commencement 2002, continued
The long route to Commencement
Standing among a small cadre of Dudley House graduates, Joe Nullet seemed relieved to have reached the end of his path.
Nullet, who entered Harvard with the class of 1984 (see Harvard Gazette, Sept. 20, 2001) but whose academic performance forced his departure in his senior year, returned to Cambridge last spring and summer to finish.
Although he was invited to join last year's Commencement, several courses shy of a diploma, he declined.
"I didn't want to march down with 1,600 strangers and get an empty envelope," he said. "I wanted to come and march with 1,600 strangers and get a diploma."
Nullet spent Commencement week surrounded by family and friends who supported him through his second shot at a Harvard degree. For his 12-year-old son, Joey, who lived with his dad in a tiny Inman Square apartment for part of last summer, this visit has been especially significant, as father and son revisit some of their favorite haunts.
"Cambridge has taken on mythical proportions for him," said the senior Nullet, hinting that perhaps this won't be the last Harvard Commencement he attends.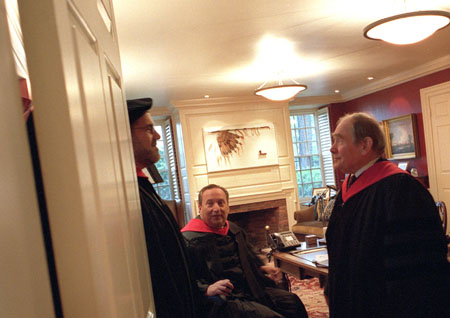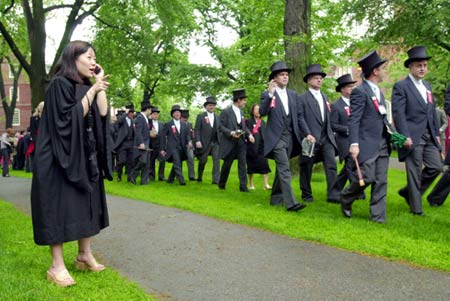 You think that was a long wait
At the front of the Dudley House line, Anne Foss waited patiently for the procession to begin.
She's no stranger to patience: Foss finished her requirements for a Radcliffe degree 63 years ago but was denied her diploma because she did not swim the requisite laps across the MAC pool. The swimming test "was a requirement, but I have a fear of water, and I especially don't like to be in deep water," Foss told The Washington Post.
It's reported that in reviewing Foss' case this year, a dean decided that if the purpose of the swimming test – no longer required of graduates – was to ensure that no graduate drowned in their lifetimes, Foss, now 85, was surely in the clear. That is, if the rain would let up.
It's unclear whether Foss ever overcame her fear of the deep end. At the Radcliffe Annual Luncheon on Friday (June 7), however, she proudly showed Radcliffe Medalist Billie Jean King her new Harvard Swimming T-shirt.
And the last shall be … last
Lowell House was the last of the undergraduate houses in the procession into the Morning Exercises. As their house was last anyway, a group of six Lowell House residents decided they would be the last of the last. Debby Rin, Kitso Lemo, Jeannie Miller, Bill Sokol, David Bright, and Toby Berkman brought up the rear of the procession with pride.
"We're thrilled to be the last walkers," said Rin. "We're the last house, so we thought we might as well bring up the rear."
Though they were the last undergraduates to enter Tercentenary Theatre, that in no way reflected a disdain for the day.
"I'm exhilarated, thrilled. It's pretty giddy to be part of this tradition," Rin said.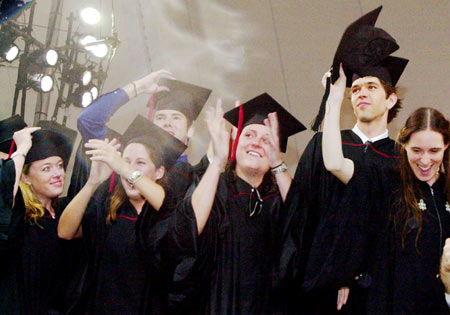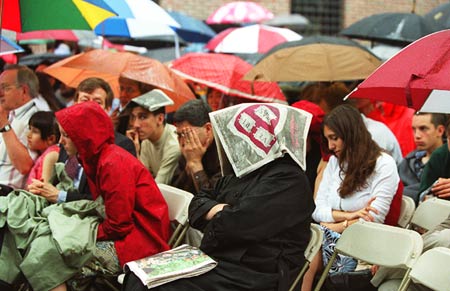 A few more stories that poured in
Sartorial compromises: Several degree candidates, parents, and guests swapped their fancy footwear for more amphibious sandals and flip-flops. Soggy students learned the protective powers – and limits – of mortarboards and The Crimson newspaper. One Mather House resident looked more horrified than grateful when her mother wove through empty chairs to pass her a plastic garbage bag to wear over her robe.
This is going to be the year …: Drying off in the Science Center after collecting his A.L.B., 11 years in the making, from the Extension School, Stan LeRoy offered insight on participating in the first Commencement in recent memory that's been drenched.
"Maybe it's broken the Curse of the Bambino," he said. "If it rains at Harvard Commencement, maybe the Red Sox will win the World Series."
Their whistles are wet enough: The three bartenders at the beer truck in Harvard Yard were as lonely as the proverbial Maytag repairman, hawking cups of rapidly diluting beer to passersby. Business has been much more brisk at past Commencements, they said, when the tables in the Yard have been full of alumni enjoying lunch – and sunshine.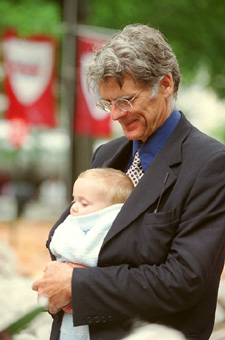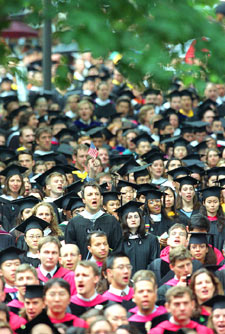 Veritas, humiditas, frigiditas: President Summers had intended to muse broadly on the subject of "veritas" in his Commencement address. But "in light of humiditas, not to mention frigiditas," he said, he would keep his remarks brief and offer the full text on the Harvard Web site.
Best seats in the House: Though many opted not to attend a pre-soaked Tercentenary Theatre for the Afternoon Exercises, others saw it as an opportunity – to get good seats.
Kay Crowley, who received her bachelor's degree from the Extension School in 1990 and comes to Commencement every year from her home in Winchester, said it wasn't raining hard enough for her to stay home ("If it's raining cats and dogs, I might think it over," she said). Crowley said the thin crowds provided her a chance to sit right up front to hear the afternoon speeches, featuring Harvard President Lawrence H. Summers and former U.S. Sen. Daniel Patrick Moynihan.
"I don't normally get to sit here," Crowley said. "I'm usually over there in the back."
Though Crowley and several hundred others did enjoy their up-close view of the ceremony, the best seats in the house were still wet.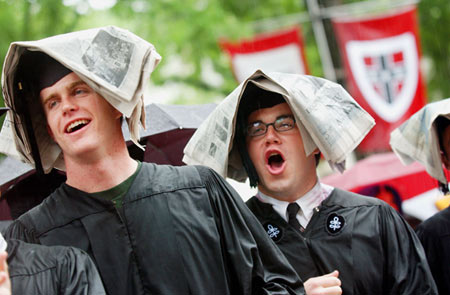 By the power vested in me…: Outgoing Harvard Alumni Association President Karen Spencer Kelly opened the afternoon ceremonies by finally giving an explanation of how – without controlling the weather and despite the evidence of this year's high humidity – Harvard is able to claim that it never rains on Commencement.
"It is the tradition of fair Harvard to have fair weather [on Commencement Day]," Kelly explained. "And one of the powers of the Harvard Alumni Association president is to declare what is and is not fair weather.
"This is fair weather," she said, gesturing to the drizzle that fell on the audience. "So I hope you enjoy it."
Praise the Lord and pass the towels: The Rev. Peter J. Gomes, the Plummer Professor of Christian Morals, who closed the Morning Exercises with the benediction, gave what might have been the most popular speech of the day, judging from the cheers of the thin remaining crowd. After watching the crowd slowly trickle away through the last half of the exercises, Gomes kept it short, sweet, and to the point.
"God, keep us safe, dry, and happy. Amen."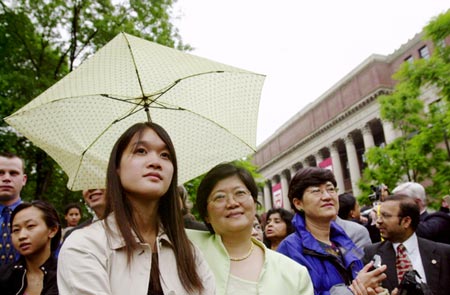 Love Story
A young man carrying a magnificent bouquet of long-stemmed red roses sat on the edge of his chair under a large black umbrella as University Marshal Richard Hunt read the honorary degree citations. He seemed impatient and a bit distracted. Asked who the roses were for, he replied they were for his girlfriend who was graduating today.
"Well, actually, she's not technically my girlfriend at this moment, but she was my girlfriend up until March, and I hope that she'll be my girlfriend again."
The young man, who identified himself as Jim, but declined to give his last name, said that he graduated from Harvard last year and was now a first-year law student at Stanford. He and his girlfriend had been together since freshman year, but somehow being separated by a continent had brought disagreements about commitment, and in March, after a three-hour phone conversation, they had agreed to "take a break from each other."
Jim said that he had realized he had made a mistake almost as soon as he hung up the phone, but didn't call back for a month because he didn't want to seem "weak."
They had spoken several times since then, but she was still unconvinced. So Jim bought a last-minute ticket to Boston, found a Commencement ticket for sale on eBay, and bought the roses early that morning at Brattle Square Florists. He was planning on finding her after the ceremonies were over, handing her the roses, and pledging his undying devotion.
"I hope it works," he said. "I spent a good chunk of next year's tuition on this."