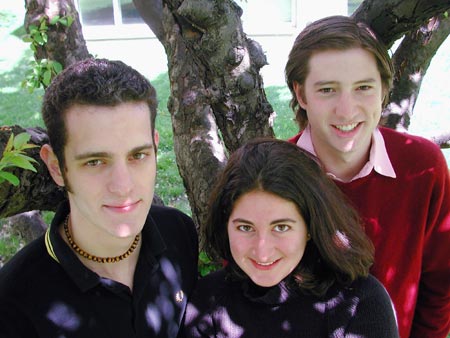 Harvard seniors Erica Levy, Christopher Papagianis, and Marc Wallenstein have been awarded the George Peabody Gardner Traveling Fellowship for 2002. The fellowship, available to graduating seniors who are concentrators (or joint concentrators) in the Departments of Visual and Environmental Studies, Anthropology, English, History and Literature, Literature, or Philosophy, is awarded to students who demonstrate a curiosity about the history and customs of cultures other than their own. The award includes a stipend for a year of travel and study.
Levy hopes to complete a book of original poems and translations of classical poems using the Greek landscape as inspiration for her work. Papagianis plans to live in Andorra, a small country between France and Spain. He believes that living in Andorra for a year will provide him with the opportunity to build a collective memory with a people who have a dual national archive. Wallenstein plans to spend a year in the Northern Territory of Australia conducting a photography project while working on a farm and volunteering as a home tutor for Aboriginal and non-Aboriginal students of the School of the Air, a school-by-radio in central Australia.
Award winners were selected by Alfred Guzzetti, Osgood Hooker Professor of Visual Arts; Steven Caton, professor of contemporary Arab studies; Sandra Naddaff, director of studies in Literature; Sage Sohier, lecturer on Visual and Environmental Studies; and Patrick Strzelec, Rudolph Arnheim Lecturer on Studio Arts.