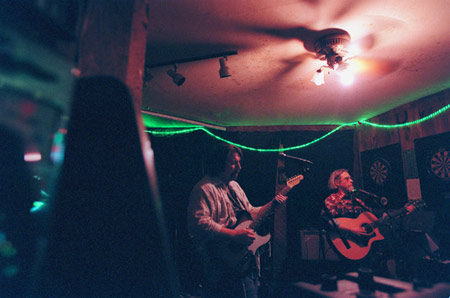 You've heard of the Cambridge folk renaissance? Well, Lenny Solomon was there.
Not in the early '60s, when Joan Baez and Bob Dylan were packing them in at the Club 47, but later on, around 1969, after Club 47 closed and reopened as Club Passim. Solomon performed his own songs there, accompanying himself on acoustic guitar.
"I was the second act ever to play at Passim's, and the first act ever to fill the place," he said.
Solomon's first singing career lasted about 10 years. He was a regular at Passim's and at the Idler, a basement club on Mt. Auburn Street where Kinko's now stands.
Ah, what could be sweeter for a young musician than to play and sing through those long summers of love? But then family responsibilities convinced this grasshopper to join the salaried ranks with the rest of the ants.
Let's revise that metaphor. The scurrying, regimented ant is hardly the right insect to represent the work Solomon took on. With a master's degree in mechanical engineering from the Massachusetts Institute of Technology, he got a job with atmospheric chemist James Anderson's group, designing experimental equipment to be carried by high-altitude jets over the South Pole to measure the hole in the ozone layer.
But though Solomon's handiwork soared, his music did not. He gave up performing and contented himself with writing only an occasional song.
Since then, he has become manager of the group's research program. And there is no doubt about the fact that he enjoys the work.
"Otherwise, I wouldn't be here all this time. It's exciting to be doing something to solve public health problems."
Still, there was something missing, and, oddly enough, it took a doctor's intervention to remind him what it was. An inveterate pipe smoker, Solomon was advised by his physician to desist.
"I gave it up cold turkey, and then I was trying to think of positive things I could do to replace pipe smoking, and I thought, hey, I could start singing again."
That decision led to the formation of a group known simply as Solomon (the name was suggested by his fellow band members). The trio performs at local venues and has recently put out its first commercially available CD, "Not Life Threatening" (from Amazon.com, CDBaby.com, or direct from Solomon).
Solomon's songwriting has picked up again as well. He makes sure he is never far from a cassette recorder so he can record musical ideas as they occur to him, and the ideas keep coming, stimulated both by the odd and the everyday. "Your Flight Has Just Been Cancelled" was inspired by airport frustration; the title song, "Not Life Threatening," by the lame reassurances Solomon's mother was getting tired of hearing from her doctor; "The Listener" by the eight weeks of enforced silence Solomon endured after he broke his jaw.
Although he enjoys performing, songwriting is the real engine of Solomon's personal folk renaissance.
"I think my songwriting has gotten better as I've gotten older – more insight into life, I suppose. I sing as a way of getting the songs out there."
We serve the public interest! Interesting people, interesting jobs, interesting hobbies – we want them in the Big Picture. If you have an idea for the Big Picture, give us a buzz at big_picture@harvard.edu