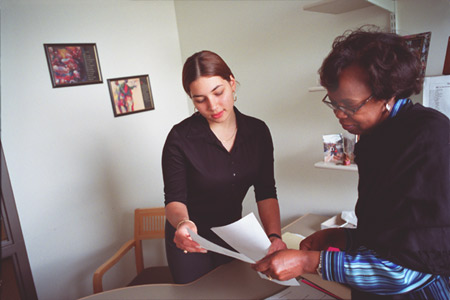 Thanks to tight budgets and layoffs throughout the region, the livin' might not be so easy this summertime for teenagers scrambling for jobs in Boston and Cambridge. But Harvard is doing what it can to help, developing summer jobs for teens in its host communities around the University. Teenagers will fill close to 100 summer jobs at Harvard – from landscaping to data entry, faculty assistance to maintenance and moving – through the Harvard Summer Teen Employment Program, or STEP.
"We are committed to hiring young people from our area for the summer," said Harvard Vice President for Government, Community and Public Affairs Alan Stone. "They benefit from the job experience and from the exposure to new opportunities, and we gain new and energetic co-workers. It's a good deal for everyone."
Working with the Cambridge Office of Workforce Development and the Boston Private Industry Council, STEP provides Harvard jobs for urban teens who meet several different agencies' eligibility criteria. While teenagers have long filled summer jobs at Harvard, STEP coordinates the effort across the University to make the experience a positive one for employer and employee alike.
Ruby Blake, payroll administrator and community outreach manager for Harvard Business School (HBS), has worked with Boston teenagers for several years, either employing them after school and during the summers in her own office or placing them throughout the Business School.
"We get some good help, and we are able to help them with just basic good office skills," she said. "That helps them a lot when they are going into the workforce or going into college."
Her current student, 17-year-old Gabriela DeLeon from Brighton High School, has worked with Blake for almost three years, handling basic office functions like filing, data entry, and phone answering. Blake has enjoyed watching DeLeon's progress, both on the job and at school.
"It's more rewarding having a teenager here," she said, adding that she watched DeLeon's predecessor grow and mature in the three years she held the job.
Paula Shreve, human resources assistant at the Divinity School, has hired teens for several summers but found last year's experience with the increased resources of STEP to be especially positive.
"I can't say enough good things about the program," she said. Shreve hired Manoushka Compte, a Brighton High School student, to do general office work, which increases during the summer as Shreve's office prepares for a new fiscal year.
"She was a really wonderful person to work with," said Shreve, adding that Compte learned quickly and reported to work with an eagerness and enthusiasm that sometimes eludes more experienced workers. "It's refreshing to have that in the office," she said.
Both Shreve and Compte took advantage of some of the supportive systems STEP offers.
For supervisors, there are seminars about working with teenagers, who might present new challenges to their employers.
For the teens, STEP eases the transition into what may be their first-ever job. A handbook introduces them to Harvard and the world of work, with hints about promptness, etiquette, and dress. A weekly seminar series enhances their experience with discussions on teen-focused topics like college choice, personal finances, and community service.
While Harvard offers lots of unique work opportunities, this year there are thousands more teenagers than jobs.
"We're in a very, very tough job market, a very tough economy. We have a flood of kids needing jobs," said STEP program manager Amy Meyer, associate director, community outreach and diversity in the Office of Human Resources. Meyer has been "beating the bushes" around the University to encourage offices to consider hiring teens for summer vacation fill-ins or seasonal projects.
"These jobs offer a valuable work experience to a teenager in Boston or Cambridge public high schools who might not otherwise have [that] opportunity," said Meyer. "This is something wonderful that Harvard offers its host communities."
To offer a summer job to a teenager through STEP, contact Amy Meyer at amy_meyer@harvard.edu.