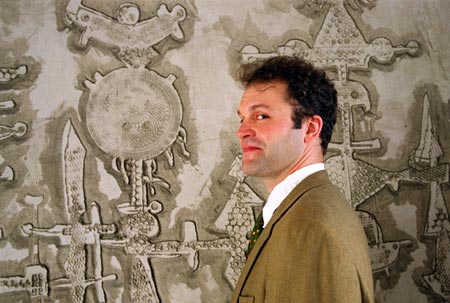 Two FAS junior faculty members have received the Roslyn Abramson Award, given each year to recognize excellence in teaching.
Eileen Cheng-yin Chow, assistant professor of Chinese literary and cultural studies, and James Russell Muirhead, assistant professor of government, will each receive $5,000 — a sum that is intended to help faculty members with either research or course development. Recipients of the award are selected by the dean of the Faculty of Arts and Sciences (FAS).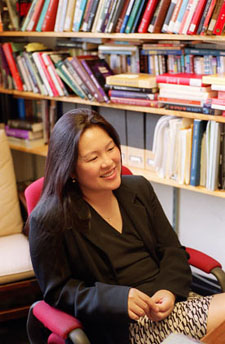 "Here are two wonderful faculty colleagues whose contributions to the education of our students are superb," said FAS Dean Jeremy R. Knowles. "It is a pleasure thus to honor them."
As a Harvard undergraduate, Chow '90 ('91) learned an important lesson about teaching.
"I realized that the way teaching makes a difference in a student's life is through personal connection," she said.
Drawing on that realization, she has tried to make personal connections part of her teaching. Even in her popular lecture course on Chinese cinema, she makes sure she knows the names of all her 140 students, spends time with each section, and ends each of her lectures with questions and discussion.
She also uses the course Web site to extend discussions and highlight interesting student comments so that they can be shared with the rest of the class.
"I always try to make sure the students know that I know they exist," she said.
In her seminar courses, Chow follows a similar policy of letting her students have a voice.
"The urge for new teachers is to talk all the time because there's so much you want to tell them. But I've learned to hold back in a seminar setting and give them a chance to discuss the material."
Another of Chow's innovations is to make the end of the term conference in her seminar "Chinatowns" open to the public. In addition to students, representatives from educational and community groups have attended the conference, which has a positive effect on the way the students present their final papers.
"Knowing that their papers are being written for the community and not just for me really makes them focus in the course," she said.
Muirhead '88, Ph.D. '96 also learned valuable lessons about teaching from his years as a student at Harvard.
"I learned about teaching from my best teachers, Michael Sandel, Harvey Mansfield, and Samuel Beer," he said.
From Sandel, professor of government, Muirhead learned that "effective teaching requires students to think through things for themselves and to try out arguments. I learned that class discussion is a way to allow ideas to become more visible."
From Mansfield, the William Kenan Jr. Professor of Government, he learned that "teaching is in part like midwifery in that you're helping students bring forth ideas, but it's also being a taskmaster, being demanding and not just nourishing."
And from Beer, the Eaton Professor of the Science of Government Emeritus, he learned that "any understanding of political thought or events is incomplete if it is merely cognitive. If you don't feel Marx, you can never understand Marx."
In his Core course, "Moral Reasoning 64, Ethics and Everyday Life: Work and Family," Muirhead spends much of the time lecturing, but also tries to allow for "a lot of back and forth" in class. In preparing his lectures, he works hard to feel the full emotional force of the ideas and arguments he is presenting and to convey those feelings to his students.
"I try to get across the optimism, the anger, the hope, and the despair these ideas contain, rather than just give a dry, sober account."
In his smaller classes, such as his seminar in American political thought, Muirhead speaks for only a short time, then spends the rest of the class asking questions and guiding the discussion.
"I try to exercise a light hand, to step back and let the students take more authority. They often take the discussion to places I would never have thought of going."
In spite of winning the award, Muirhead feels that he still has a lot to learn about teaching, and he said that he spends a lot of time thinking about how he can improve.
"I find it very hard, very challenging," he said. "It's a heroic task."