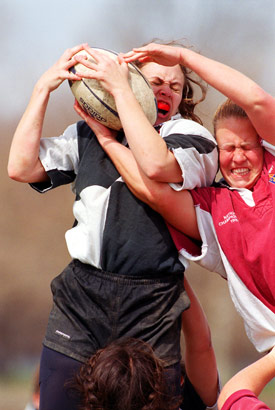 As the Harvard baseball team warmed up to a blaring rendition of "Welcome to the Jungle" this past weekend (Saturday, April 13) at O'Donnell Field, the tune could have served as a harbinger for the Radcliffe rugby team, playing within earshot on their home pitch. The young Radcliffe team (just two seniors deep) entered some pretty hostile terrain against a more experienced University of Massachusetts, Amherst squad. And once the dust settled, and there was plenty, UMass – a national title contender for the past three straight years – had manhandled Radcliffe, 32-3.
The Minutewomen, set to appear in the Sweet 16's next week, capitalized on some of Radcliffe's less-than-inspired punts, returning the short balls for consecutive tries in one second-half stretch. Radcliffe freshman Casey Cormier scored a pretty drop-goal in the first half to deny the UMass shutout. The Cliffies B-side team fared a little bit better, dropping a close 15-12 contest.
The 10-6 club will travel to Portsmouth, R.I., this weekend for the 19th annual Beast of the East Tournament, before returning home to host the rugby Beanpot on April 27-28.