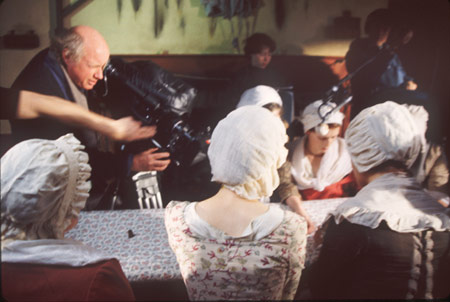 Filmmaker Richard Rogers was known for his appetite for knowledge and his omnivorous interest in the world around him. That interest is reflected in the diversity of the films he made, ranging from portraits of American writers to an exploration of the Nicaraguan revolution to the biography of an early 19th century rural midwife, to searching investigations of his own life and family history.
This Friday and Saturday (April 19 and 20), the Harvard Film Archive will present "Dick Rogers: In Retrospect," a generous selection of Rogers' films, introduced by the filmmaker's friends, students, and colleagues, who will gather to share thoughts on his life and career.
Rogers '67 was director of the Film Study Center and senior lecturer in Visual and Environmental Studies (VES). He died in July 2001, after a long struggle with cancer.
"He was a friend, a collaborator, and a wonderful colleague who had an intense determination to impart to students his own enthusiasm about filmmaking and video," said VES lecturer and filmmaker Ross McElwee. "He also had a wonderful sense of humor that factored into the way he taught, and he had tremendous energy."
Julie Mallozzi, a filmmaker and teaching assistant in VES, spoke of Rogers' iconoclastic approach to filmmaking and his insistence on passion and truth rather than formal perfection.
"He pushed me to figure out why I was making a film and to find a way to express that. He encouraged people to trust that they had something deep and important to say and to share that with the world through film," she said.
Senior VES lecturer Robert Gardner, founder and former director of the Film Study Center, who knew Rogers during the latter's undergraduate days at Harvard, and later as a colleague and collaborator, said that Rogers was "inventive, extremely thoughtful, and a passionate supporter of young people who were interested in film."
An informal memorial service will take place at 4 p.m. at the Carpenter Center, followed at 8 p.m. on Friday with a showing of two of Rogers' early films: "Quarry" (1970), a portrait of an abandoned quarry in Quincy, that captures the striking natural beauty of the site as it explores the social rites of the young people who gather along its shores to enjoy moments of leisure in what was once a place of toil; and "Elephants: Fragments of an Argument" (1973), in which Rogers employs a collage of photographs, street scenes, and interviews with family and friends to explore the evolution of his own consciousness.
A showing of "William Kennedy's Albany" (1992) will round out the evening's program. The film follows the Pulitzer Prize-winning novelist William Kennedy ("Legs," "Billy Phelan's Greatest Game," "Ironweed") as he tours Albany's neighborhoods and discusses their relationship to his fiction. Kennedy himself will be on hand to introduce the evening's films.
The film festival will continue at 11 a.m. on Saturday with a showing of "226 – 1690" (1984), a personal, experimental film in which Rogers creates a "minimalist soap opera" out of messages left on his telephone answering machine over the course of a year. As the messages sketch the outlines of Rogers' life, the camera records the changing cityscape through the windows of the filmmaker's New York apartment, contextualizing Rogers' life in the natural and human world outside. The film will be introduced by film scholar Tom Gunning.
Next is "Voices and Visions: William Carlos Williams," (1988), a portrait of poet-physician William Carlos Williams, made for the PBS series on American poetry. Like Williams' poetry, the film is structured as a modernist collage, with documentary footage, surreal dramatic scenes, interviews, and animation sequences intercut to evoke the poet's imaginative world, his work as a community doctor, and his relation to the visual arts.
At 2:30 p.m., there will be a showing of "Pictures from a Revolution" (1991), introduced by photographer Susan Meiselas (Rogers' wife) and Alfred Guzzetti, the Osgood Hooker Professor of Visual Arts, both of whom collaborated with Rogers on the film.
It chronicles Meiselas' return to Nicaragua 10 years after she documented the Sandinistas' overthrow of the Somoza regime, a project that resulted in the book "Nicaragua: June 1978-July 1979" and a Robert Capa Award for courage in photojournalism. The filmmakers' attempts to track down the subjects of Meiselas' earlier photos result in a striking and often tragic picture of the vitality of the Nicaraguan people amidst the devastation of war.
The final film of the day is "A Midwife's Tale" (1996), introduced by Laurel Thatcher Ulrich, the James Duncan Phillips Professor of Early American History. This highly acclaimed adaptation of Ulrich's Pulitzer Prize – winning book unfolds like a detective story as it recounts the true tale of two women who lived 200 years apart in time, linked by the massive but cryptic diary one of them left behind.
The world of frontier midwife and diarist Martha Ballard gradually takes shape as Ulrich pieces together the turbulent decades after the American Revolution in a small Maine town where social turmoil and religious conflict made survival a full-time job.
Although Rogers loved to make films, he was not one to vigorously promote his own works, and that has resulted in many of his films being less well known than they should be, said Gardner, one of the principal organizers of the event and one of the hosts introducing some of the films.
"Dick gained well-deserved respect and affection through his teaching and his friendships, which were many and deep. This will be an opportunity to get some of the films he made over the course of his career in front of an audience," Gardner said.