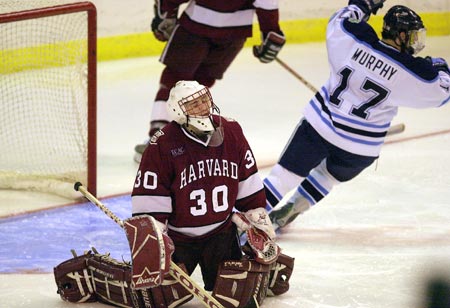 Tied 3-3 at the end of regulation in NCAA regional action last month against the University of Maine, the Harvard men's hockey team was very much in their element. After pulling out three straight overtime wins in playoff action against Brown, Clarkson, and Cornell, the Crimson's last few outings have appeared preordained. Yet Harvard's postseason success came to a dramatic halt on Saturday, March 23, at the Worcester Centrum, when Maine's John Ronan notched the game winner two minutes into the extra period, lifting the Black Bears to a 4-3 victory. The OT loss concluded an improbable postseason run for the 15th ranked Crimson, who exceeded all expectations in their first playoff showing since 1994.
Harvard scored first at 7:55 of the opening period when Tim Pettit '04 fired a shot past Maine goalie Mike Morrison. It was Pettit's 16th tally of the season – a team high. The Bears, ranked No. 5 in the nation, tied the game at 1 later in the period, scoring on the power play. Following two unanswered goals, Maine took its first lead of the afternoon, a 3-2 edge. Freshman Tom Cavanagh kept Harvard's hopes alive in the final period, collecting his eighth goal of the season to lock the game at 3-3. Cavanagh's goal, his eighth of the year, forced the Crimson's fourth, and final, consecutive overtime game. Freshman goaltender Dov Grumet-Morris made 32 stops against Maine.
The Black Bears downed Boston University the following day, 4-3, to advance to the Frozen Four. Maine will take on its neighbor New Hampshire today (April 4) in the semifinals. The winner will play either Michigan or Minnesota for the national championship in St. Paul, Minn.