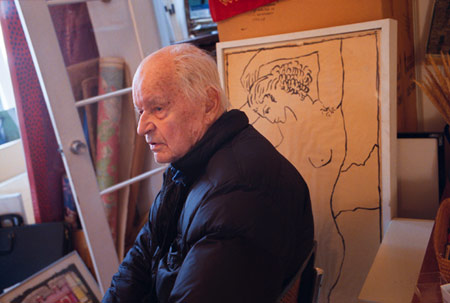 Jerzy Soltan, the Nelson Robinson Jr. Professor of Architecture and Urban Design Emeritus, has received the Topaz Medallion for Excellence in Architectural Education, awarded jointly by the American Institute of Architects (AIA) and the Association of Collegiate Schools of Architecture (ACSA).
Soltan, a student and later associate of the great modernist designer Le Corbusier, joined the faculty of the Graduate School of Design (GSD) in 1959. He retired in 1979.
The Topaz Medallion honors an individual who has made outstanding contributions to architectural education and whose teaching has influenced a broad range of students, "shaping the minds of those who shape our environment." In awarding the Medallion, which was presented at a ceremony at the GSD on March 15, the AIA/ACSA jury called Soltan "the epitome of the inspirational educator, bringing boundless energy and architectural vision to generations of future practitioners."
Albert Szabo, the Osgood Hooker Professor of Visual Arts Emeritus, who remembers meeting Soltan at Logan Airport when he first came to Harvard, called Soltan "a born teacher" and "a great wit," as well as a lifelong proselytizer for the design philosophy of his mentor Le Corbusier.
"He's a Corbu man, and unashamedly so," Szabo said. "But at the same time, he has a mind of his own and has a rationale for everything he does."
François Vigier, the Charles Dyer Norton Professor of Regional Planning, said that despite his modernist perspective, Soltan was "very open-minded and interested in what his students were trying to do, rather than impose his 'theology' on them. He's also very rigorous in his thinking and would push them to go as far as they could."
Among Soltan's former students are many prominent architects and designers as well as many influential figures in architectural education. These include Alan Chimacoff of Princeton; Pierre Jampen of Université Laval, Quebec; and Michael Graves, Princeton professor, architect, and designer of popular housewares including the famous Alessi tea kettle.
"My students are all big shots in American architecture now," Soltan said. "They are the ones who have pushed for this honor."
Soltan was born in 1913 in the town of Prezma, in Latvia, and studied architecture at the Warsaw Technical Institute in Poland. It was there that he first became acquainted with the work of Le Corbusier.
Shortly after receiving his master's degree, however, he was drafted into the Polish army, captured by the Germans, and placed in a German prison camp where he spent the remainder of the war. He occupied his time corresponding with Le Corbusier and translating one of his books. When the war ended, Soltan went to Paris and worked for Le Corbusier's architectural firm.
"Le Corbusier advocated an architecture of imagination, metaphor, poetics. He knew that it was not possible for humans to cut their ties with the past and start from zero."
Later, after coming to Harvard, Soltan was instrumental in persuading his former employer to accept a commission to design the Carpenter Center. The reinforced concrete building on Quincy Street with its distinctive ramp is the only Le Corbusier building in North America.
Soltan recently received another distinction, an honorary degree from the Academy of Fine Arts, Warsaw, where he held a professorship from 1949 to 1965. The honor was bittersweet because Soltan's ties with modernism and with Le Corbusier had made him unpopular with the school's Communist leadership. For a while, he was permitted to teach only bricklaying and carpentry.
"I was absolutely anathema," he said. "Now they consider me as the poor fellow who was hurt by the old regime."
At 89, Soltan still visits the GSD regularly to see old friends and keep up with activities at the school. And although he is no longer accepting commissions, he still spends time at his drawing board.
"I have been working on some mad projects," he said. "They are absolutely my fancy. When or if they will be realized, I have no idea."