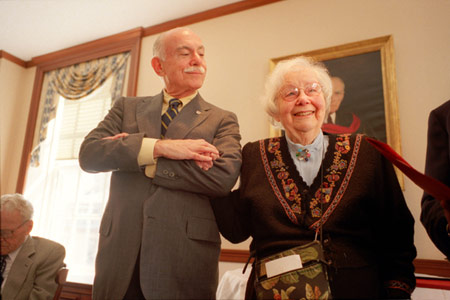 Their legs may be failing, buttressed by canes and walkers; their hearing is amplified by mechanical aids; the color of their hair is, for most, a distant memory.
Yet the hearts and minds of 11 nonagenarians honored Friday, April 12, for their participation in the Harvard Institute for Learning in Retirement (HILR) were fully present and accounted for.
At a lunchtime ceremony at the Faculty Club, University Marshal Richard Hunt presented citations to longtime HILR participants who have recently or will soon mark their 90th birthdays: Ida Brown, Lois Eliot, former Harvard librarian Catherine Jones, Beatrice Katz, Milton Landowne '36, former Harvard College Observatory researcher Margaret Lewis, John Patterson '35, Irving Rabb '34, Helen Rooney, James Tipton, and Edythe Vigderman.
Michael Shinagel, dean of the Division of Continuing Education, under which HILR falls, told the honorees, "You are the living proof of the motto that learning never ends."
The celebrated elders and their families enjoyed a champagne toast and spirited conversation while they awaited lunch. "You ought to see us in action around the seminar table," said John Patterson, a former American diplomat in Japan who was a charter member of HILR when it started in 1977.
HILR members, of whom there are now 500, participate in peer-led study groups in fields such as history, philosophy, science, religion, music, literature, languages, and creative writing. Patterson, whose study group on Japan was one of the institute's first, says he has missed only two of the 50 semesters since HILR began.
For Margaret Lewis, a physics researcher at the Harvard Observatory and a pioneering woman in the field, HILR has provided an opportunity to pursue some of her nonscientific interests, including writing poetry.
Irving Rabb '34 returned to the Harvard classroom after nearly 60 years through HILR. "It's so completely different," he said. Rabb, who with his wife is an active patron of classical music, has studied music appreciation through HILR.
United by their intellectual pursuits, the senior members of HILR also form a social bond. "I've met some of the best people I've ever met in my life here," said Patterson. "When I think of some of them, my eyes get wet."