For a team that was forced to share last season's Ivy crown with the Harvard softball squad (thanks to some late-season Harvard heroics), Cornell's 5-1 win over the Crimson this past Sunday (April 21) was a fitting bit of redemption for the Big Red. As Cornell drilled five hits in the fifth inning against Harvard in the first contest of the doubleheader, the Big Red simultaneously managed to bury Harvard hopes for another (partial or otherwise) Ivy crown. Likewise, the defeat knocked the hot Crimson team out of contention for a NCAA Tournament spot. Still, posting a strong 10-2 record in the Ivies (26-8 overall), the Crimson managed to secure second place behind the eventual champion Princeton Tigers – way ahead of the remainder of the Ivy pack, including third-place Cornell, who are .500 with two league games remaining.
Prior to splitting the two-game home stand against Cornell, Harvard owned a trio of doubleheaders against Penn, Rhode Island, and Columbia – good enough for a season-high seven straight wins.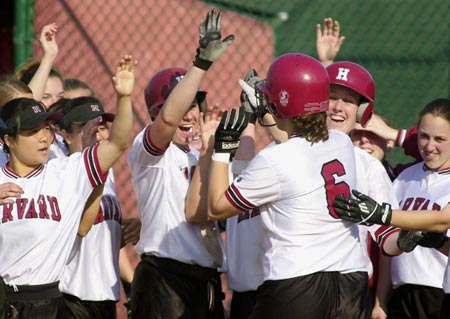 Against Rhode Island (April 18), rookie Laura Miller hit her second homer to lead Harvard's sixth-inning barrage of six runs in the 10-2 victory. In game two, Tiffany Whitton '03, boasting a .417 batting average (18th in the nation), recorded her 11th home run of the season to break Harvard's single-season record. The Crimson held off the Rams for the 4-3 win.
Two days later (April 20), the Crimson strutted their defensive stuff with a pair of wins over Columbia as Kara Brotemarkle '02 – an All-Ivy honorable mention a season ago – gave up just four hits in securing the 2-0 shut out. Suzanne Guy '02 earned the win in the second game, allowing just one run in five innings toward the 6-2 win.
The Crimson return to action against Boston College today (April 25) at 3 p.m. at the Eagles' Shea Field, before a doubleheader at Dartmouth on Saturday (April 27). The team wraps up its season on May 2, this time hosting Boston College.