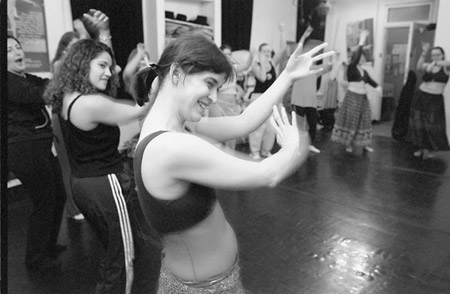 She'd always been a dancer, just like the girl in the Beatles song – toe shoes, leotards, tutus, first position, second position, pliés at the bar.
A ballerina – the next best thing to being a princess – beautiful, ethereal, feet barely touching the ground. You buy into it big-time when you're 5 or 6. Then you get to be 8 or 9, and they tell you: You're too short, too tall, too heavy. Sorry, go find yourself another dream.
"It can be devastating," says Karen Uminski. "And it usually happens just when you're forming your self-esteem."
Uminski kept on dancing, though. She tried tap, jazz, modern, but nothing could quite replace the dream of floating across the stage on tiptoe or of being lifted effortlessly by Prince Charming.
As time went on, Uminski embarked on a spiritual search. Raised Catholic, she left the faith and decided she was an existentialist. "But that was lonely and depressing." So she moved on.
She looked into a few of the major religions, but found that in all of them being female seemed a liability. "I was looking for a religion where I wouldn't be a second-class citizen," she said.
Then one night, dancing and religion came together. Uminski had a spiritual awakening.
She and a friend had taken a belly dancing class, mostly for the shock value of telling people they were doing it. But Uminski got hooked. The movements were easy, natural. She learned that the dance originated as a ritual to prepare women for childbirth and that it had been spread by Gypsies throughout the Mediterranean region. Egypt, Turkey, Greece, Albania, Morocco, even Hungary all have versions of it. In these cultures belly dancers perform at weddings and bridal showers, where they confer the blessings of fertility.
"Then one night, I was dancing by myself with the lights off, and I suddenly had a feeling of being much bigger than myself," Uminski said. "It was a glimpse of the divine."
She never forgot that moment. It made her realize she'd been seeking for spirituality in the wrong place, in her head. Where she needed to look was in her heart and her body.
Now, 13 years later, Uminski performs as a professional belly dancer with a group of four other women who call themselves "Goddess Dancing." She also teaches and occasionally entertains at parties and delivers bellygrams. When she's not dancing, she works as a staff assistant at the School of Education's Project Zero.
Belly dancing is a lot more than just a sexy dance, she maintains, though it is sexy, and part of the appeal is dressing up in colorful, flowing garments topped off with a generous assortment of jewelry.
"A very important part of the dance is feeling beautiful. I always say to my students, your body right now is perfect and beautiful. Don't let anybody tell you differently."
For Uminski, belly dancing is a spiritual practice, like yoga or tai chi. It's also political.
"We're shaking up the patriarchy, shimmy by shimmy."
But what about those parties and bellygrams? Isn't Uminski worried about trivializing this ancient, spiritual art form?
"My feeling is that anytime I dance, it's spiritual. If just one person sees the goddess, then I've done my job."
We serve the public interest! Interesting people, interesting jobs, interesting hobbies – we want them in the Big Picture. If you have an idea for the Big Picture, give us a buzz at big_picture@harvard.edu