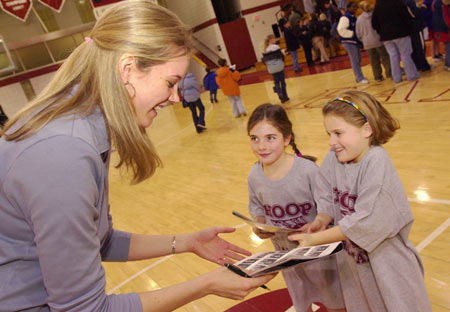 Staff photos by Jon Chase
Just minutes after the Harvard women's basketball team won its seventh Ivy League crown, beating Yale 77-65 on Friday (March 1), senior captain Katie Gates reflected on her own start, as a kid fan of the University of Kansas women's team.
"I remember the KU games, [the players] were all sweaty and slapping your hand," said Gates, a forward from Overland Park, Kan. "It's sort of funny when someone wants your autograph today, but I remember how special it was."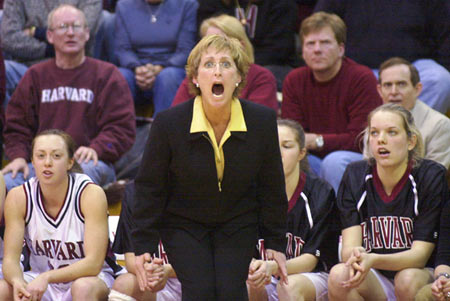 Gates said she started going to those games when she was 5 or 6 and kept on going until she was 11. It was good for her, she said, to see the women players, strong and talented. Today, the roles have been reversed, and Gates and her teammates are the sweaty players slapping the hands and signing the programs of groups of young girls who turn out for every game, sometimes just a handful, sometimes by the van-full.
"You just don't think there's anything special about you," Gates said. "But starting at 5 or 6, I was that kid [fan]."
Today, Gates and the rest of the Harvard Women's Basketball Team are taking their fans on a bit of a ride as they head to the 64-team NCAA women's basketball tournament as Ivy League Champions. They tore up the league with a 13-1 record, perfect except for a Jan. 11 loss at Princeton, which they avenged a month later with a 78-70 victory. Though they clinched the title on Friday, they still had two games to play, beating Brown, 76-63, on Sunday, and Dartmouth, 58-42, on Tuesday.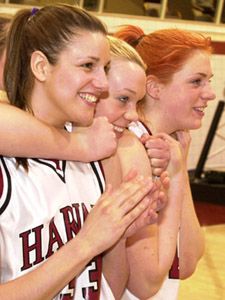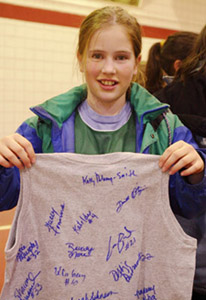 Sharon Nunamaker '02 (left), Sarah Johnson '03, and Kate Ides '03 exuberantly wait for the clock to wind down against Yale as the team is on the verge of winning their seventh Ivy League title. Sophie Duncan, 11, shows off a T-shirt that was autographed by the team and given to her as a birthday gift.
On Friday night, 11-year-old Sophie Duncan was the one watching the team with stars in her eyes. Sophie wanted to celebrate her 11th birthday by watching the Harvard women play and so her parents made a party out of it, inviting nine of Sophie's basketball-playing friends, all wearing green Newton Girls Basketball Association shirts. It wasn't just a party in the stands, however. The girls helped put on the show. Harvard women's basketball coach Kathy Delaney-Smith arranged for the girls to play on the court during the halftime break.
It's no accident that Sophie and her friends were on the court Friday. Or that the Melrose sixth-graders were there on another night, or the Cambridge Baby Falcons, or that teams from Watertown, Brighton, and even from Jamaica, N.Y., have come to play a bit before the crowd and meet the Harvard players.
Delaney-Smith and her assistant coaches, Stacey Connors and Danielle O'Banion, think it's an important part of the program that the players serve as models for the next generation – whether or not Harvard's next star is in their ranks.
"I never had a role model, they were all male," said Delaney-Smith. "I didn't see anyone of my stature, with my foot speed – or lack of it. When you see someone who looks like you doing it, you believe [that you can do it]."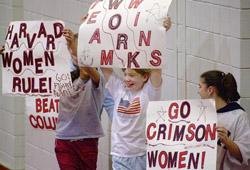 Bonnie Jordan (above, center), 11, of Holbrook, joins two friends in showing their support for the Harvard women's basketball team.
Harvard forward Hana Peljto '04 reaches out for a loose ball against Columbia, Thursday, Feb. 7. Harvard won, 79-57. Peljto leads the Ivy League in scoring.
Waltham High School women's basketball coach Denise Nugent, who played with Connors in high school, agrees. She has taken her team to watch the women's team practice and uses their drive and dedication as examples for her girls to strive toward.
"I think it's important that they see what they can achieve. They watch [Crimson players'] competitiveness, hard work ethic, their teamwork. I say, 'I don't expect you to play like a Division I basketball player, but I do expect you to take [the sport] to heart.' These women work out nine or 10 months a year and attain a high grade point average," Nugent said. "I tell the team that if you can play, there's a college for you."
On Friday night, after cutting down the net in celebration of winning the Ivy League championship, the Crimson team presented Sophie with a T-shirt signed by each of them. Sophie and her friends, in turn, gave the team cupcakes they had baked, with each bearing a player's number written in icing.
Duncan's mother, Julia Reade, said girls growing up today are among the first to be able to have this kind of a role model. College players can be doubly influential, since they're closer in age to the girls than, say, their parents. They like the same music. In short, they're cool.
"These girls get to have heroes now that are strong, athletic and focused, rather than worrying what color their nails are and how thin they are," Reade said. "I think what's important is that this is the first [time] girls [Sophie's] age can have role models in the next age group up."